Google Art Project Comes to the Smithsonian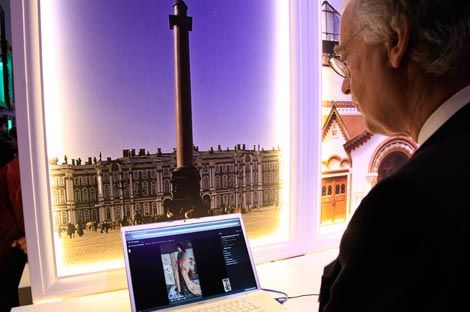 You've never seen a Whistler this way before.
As a part of the newly announced Google Art Project, the Smithsonian's Freer Gallery of Art is giving art lovers an up close and personal look at James McNeill Whistler's "The Princess from the Land of Porcelain" along with 16 other works of art from museums around the world, including Van Gogh's "Starry Night," Rousseau's "The Sleeping Gypsy" and Botticelli's "The Birth of Venus." Each is comprised of over 7 billion pixels, allowing visitors to the project to view each brushstroke and even see what sort of canvas was used.
In addition to these "gigapixel" paintings, the project uses the Google Street View technology to provide a tour of the inside of some of the world's most famous museums. As for the Freer Gallery, the museum contributed additional works for browsing, from more Whistlers to Japanese prints to ancient Buddhas. Now, on frigid days like today, you can hole up in your home and tour the collections of the Freer (not to mention the Ufizzi, MoMA, the Met, Tate Modern and more) from the comforts of your sofa.
"I think they were keen to have one of the Smithsonian museums involved and I was extremely keen because it seems to me that at least some aspects of this are a game-changer for the way that museums approach the Web," said Julian Raby, director of the Freer and Sackler Galleries. "The gigapixel allows you to see elements that you would really never ever see, certainly in traditional means of reproduction. You might see the crackle in the oil of a painting, you can sense the brushstroke in the artist's hand and energy, you can see narrative details you would never see otherwise."
Raby is convinced that endeavors such as the Google Art Project will increase interest in visiting art museums. "The traditional thing has been to say that any form of surrogate photograph, video, film will mean that people won't come to the museums; actually, the experience is quite the opposite. In this particular case, I think it will create a sense of fascination that will engage completely new audiences."
--additional reporting done by Arcynta Ali Childs