Good News for the National Mall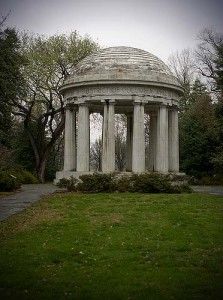 The Smithsonian Institution may not be legally responsible for the upkeep of the National Mall, but it certainly considers the green space between the U.S. Capitol and the Lincoln Memorial precious turf. After all, the Mall, long called "America's Front Yard", literally is the Institution's front yard, with doors to many of its buildings opening up onto the park.
So it's no surprise that we here at ATM have been following the ups and, well, mostly downs of the current state of the Mall. First, it was the all-too-vague definition of the Mall and its purpose. Later, the Mall in all its glory for Obama's inauguration, and then the subsequent dust bowl created by the trampling of so many feet and renovation budget cuts.
But now, there's a victory to report! Last week, the Interior Department announced that $56 million of the $76.8 million going to Washington, D.C. parks from the American Recovery and Reinvestment Act is earmarked for the National Mall. The Washington Post reported that more than $30 million will go to improving the murky Lincoln Memorial reflecting pool, $7.3 million will be used to restore the abandoned District of Columbia War Memorial for World War I veterans (between the reflecting pool and the Tidal Basin) and several million will go to fixing the slowly submerging seawall near the Jefferson Memorial.
With over $400 million in overdue maintenance, it's a start.