Go-Go at the Anacostia Museum this Saturday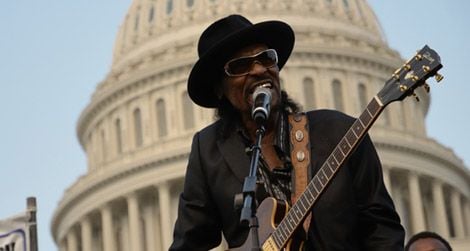 Mention "go-go music" to non-Washington, D.C. natives, and images of Belinda Carlisle or shiny white boots may come to mind, as opposed to thoughts of the city's pulsing rhythmic musical micro-genre. But if those folks happen to be children of the eighties, they may not even realize that they've heard go-go before. D.C. go-go group E.U. put everyone's backfield in motion with their hit, "Da Butt," in 1988.
Expand your go-go knowledge at the Anacostia Community Museum's "Evolution of the Go-Go Beat" event this Saturday, July 9, from 1-3. E.U.'s distinctly-voiced lead singer Gregory "Sugar Bear" Elliot will be speaking, along with go-go artist Sweet Cherie and the two coauthors of The Beat! Go-Go Music from Washington, D.C., Charles Stephenson and Kip Lornell. And of course there will be music, provided by local act Faycez U Know.
This genre of African American popular music sprang up during the early to mid-1970s, and it remains unique to the Washington, D.C. area. Chuck Brown, the "Godfather of Go-Go," created the genre by combining a number of musical influences, including funk and soul, along with Caribbean rhythms and instrumentation. His live performances became non-stop affairs, as spaces between songs were filled with percussion breaks to keep the crowd dancing. Brown essentially became his own DJ by filling those spaces and interacting with the crowd.
Naturally, the music's raw percussive nature and call-and-response cadences create a party atmosphere that's especially conducive to live performance. "What makes it special is the fact that it's participatory music," says Charles Stephenson, who also happens to be the former manager for E.U. "The band itself wouldn't be anything if the audience wasn't there to participate with them. That just brings a whole different feel. You really don't get it until you go to a go-go."
The genre's "go-go" title derives from Smokey Robinson's 1965 single "Going to a Go-Go." D.C. audiences deemed the dance hall locations where concerts took place as "go-gos." When they'd head out to a show, they would simply state that they're "going to a go-go."
Bands such as Trouble Funk, Rare Essence, E.U. and Junk Yard Band followed Chuck Brown onto the scene and eventually the music achieved its widest popularity in and outside of D.C. from the early to late eighties. E.U. scored go-go's lone mainstream hit in 1988 with "Da Butt." The song was also included in the soundtrack for Spike Lee's 1988 film School Daze, and Elliot ended up being featured in the music video with Spike Lee. " one of the best times of my life," Elliot recalls. Yet one go-go hit didn't pave the way for a mainstream breakout for the genre.
Instead, go-go ended up sneaking its way into the mainstream, mainly through sampling, influence on rhythms, or the occasional contributions of go-go musicians in the studio with national recording acts. For example, you can hear Chuck Brown's "Bustin' Loose" sampled on St. Louis rapper Nelly's "Hot in Herre;" Philadelphia R&B artist Jill Scott's "It's Love" features a go-go beat; and E.U. guested on Salt-N-Pepa's "Shake Your Thang." Over the years go-go has inevitably evolved, "following the trends in African American popular music, and has exhibited the influence of rap and hip-hop," says Kip Lornell.
The DC go-go scene is still thriving today, though some may not realize it. One could probably hear one or two go-go bands any night of the week, every night of the year. "You talk about underground music for most people in Washington, D.C.," continues Lornell, "and go-go would be the most vibrant form that you would find."
So what was it about "Da Butt" that enabled it to break out beyond the District's musical confines and last all these years? "It's a good party song," Sugar Bear chuckles when I ask. "That's a good thing. And it's still going on. It's like Chubby Checker's 'The Twist.' It's still going on."
"Evolution of the Go-Go Beat" will be taking place this Saturday, July 9, from 1-3 at the Anacostia Community Museum. There is a free weekend roundtrip shuttle service from the National Mall to the museum. You can find the schedule here.