When Cassius Clay Signed His Gloves With a Prediction of His Future Greatness
In 1964, a 22-year-old Cassius Clay was largely untested as a pro. Then he stepped into the ring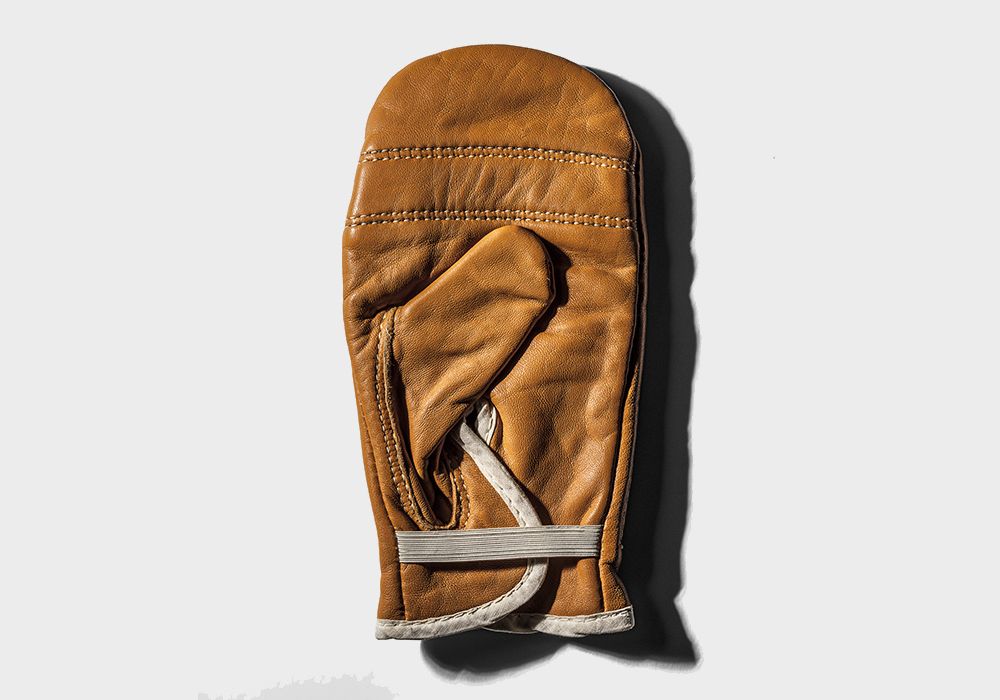 Cassius Clay was a towering young braggart, but as much as he used his mouth, the real music was in his hands. In January of 1964 he hadn't done much worth talking about yet in professional boxing; he was just a 22-year-old working out in a seedy sweatbox of a gym in Miami Beach, where you could watch him in action for 25 cents. He trained on a heavy punching bag, the hands turning his silly doggerel—"Don't make me wait, I'll whup him in eight!"—into epic poetry as he rapped out verses with his gloves: whap-whap-whump-whap-whap-whump-bam.
Clay was in training for his bout with Sonny Liston, the reigning world champion, who had underworld ties and a heavy, flooring punch. Veteran sportswriters said the pretty kid wouldn't last more than a round, and the touts made him a seven-to-one underdog. Only later would he become Muhammad Ali, the rich rhyming savant, public militant and charismatic superstar.
Here was just a desperate, ducking huckster, the sportswriters said, and he looked scared. But Clay wasn't scared. He was sure. In January 1964, at the end of a workout, he removed his gloves and wiped off the sweat. Then he reached for a pen and autographed one of his training gloves for posterity. "From Cassius Clay," he wrote, and capitalized the first letter of the following words for emphasis: "Next Heavyweight Champion of the World." Then he underscored it.
"People in the know, boxing people, didn't think he had a chance," says Suzanne Dundee Bonner, daughter of Chris Dundee, the Liston match promoter. She was also a friend of Clay's during that era. "He was the one that appeared to have the confidence in what he was doing, and in what he was going to become. He looked at himself as a historical figure even at that age."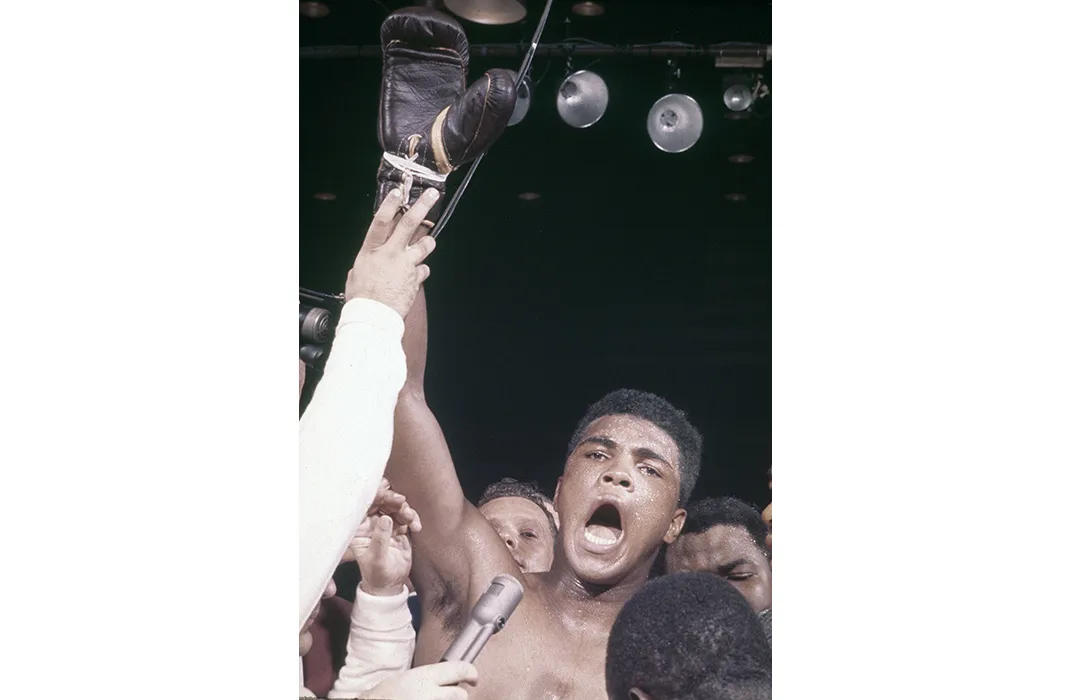 Today the gloves, acquired from the Dundee family by curator Paul Gardullo, reside in the collections of the National Museum of African American History and Culture. "They are more than just a piece of signed memorabilia, they're a window into that moment and the creation of this mythic figure," Gardullo says. "His bold, brash prediction....You can think of that glove as a calling card. It's an announcement of arrival."
There was a sense of forces gathering, of something nascent. His hotel in Miami Beach was a magnet for "whores, johns, pimps, boosters, grifters, con men, and addicts," according to author Dave Kindred, who chronicled Ali throughout the 1960s and wrote the 2006 biography Sound and Fury. And in the midst of it all, a young ascetic with skin flawless as water, and a pure focus on training.
"He was a true athlete in the sense that he loved craft," says Kindred. "He loved everything about boxing, the training; it was a rare instance when someone has talent and they also like it, they like to have it, like to use it."
He had the fastest, most dexterous hands anyone ever saw on a big man. "People talk about the dancing and the footwork, but it was the speed of the hands," says Robert Lipsyte, who covered the fight for the New York Times. Suzanne Dundee watched Clay work, and thought, "If only they could put tassels on his gloves...."
Sports Illustrated used a photo shoot to measure his hand speed. A jab at a piece of balsa wood, 16 1/2 inches from cocked fist to strike point, landed in 0.19 seconds. He delivered a six-punch combination—two jabs, a hook, right to the body, hook and right to the head, Whap-whap-whap-whump-whap-bam—in 2.15 seconds.
But it was one thing to make fist music for a camera, and another thing to do it against the hulking Liston. "That big, ugly bear," Clay called him. Of the 46 writers covering the fight, 43 predicted a slaughter. Immortals like Red Smith and Jimmy Cannon didn't trust the lean ballroom dancer with the flicking hands and shy tactics. What kind of man ran from punches?
At the weigh-in the morning of the fight—February 25, 1964—Clay hollered at Liston and had to be restrained by his minders, but when the doctor reported that Clay's heart rate was more than double its usual pace, at 120, everyone agreed he was terrified. There were rumors that he would pull a no-show.
"I think a lot of the antagonism toward him by older sportswriters...was that unorthodox style, in which he leaned back instead of slipping punches," Lipsyte says. "That seemed to go against their sense of tradition."
But that night, when he entered the ring, there was the sudden realization that the ephemeral-seeming young man was more substantial than anyone had appreciated. He loomed over Liston, 6-foot-3 and 210 pounds of shining force and presence. "There was that magic moment before the fight when they stood in the ring, and there was the realization that Clay was bigger," recalls Lipsyte. "That broke all the preconceptions."
Seven rounds later, Liston sat in his corner, cut, bleeding, refusing to come out, and Clay, the new heavyweight champion of the world, screamed at the writers, "Eat your words!"
Lipsyte began typing. This is what he wrote: "Incredibly, the loud-mouthed bragging, insulting youngster had been telling the truth all along."