Giants and Patriots at the Smithsonian
Just in time for the Super Bowl, take a look at giants and patriots of all kinds in the Smithsonian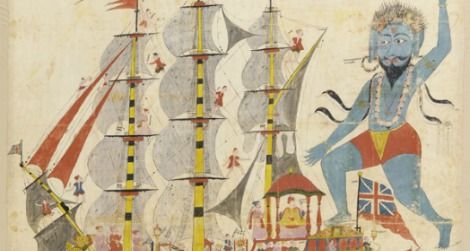 Take a look at our photo gallery of giants and patriots in the Smithsonian Institution.
In honor of Super Bowl Sunday, we've come up with our own contest of "giants" and "patriots." A disclaimer, though: it has nothing to do with football. We've combed through archives and collections across the Smithsonian Institution to come up with a unique set of patriots and giants for you to check out to get ready for the game.
If you're a Giants fan, we've got everything from giant pandas to giant sequoias to "Elaganeek: the Eskimo Giant." "Giant's Thumb," a 1926 woodcut by Howard Cook in the American Art Museum, depicts one of the artist's favorite natural spots in New Mexico, his adopted home.
For New England fans, though, the Smithsonian is filled with patriots both real and invented. Uncle Sam, of course, is the country's iconic patriot, but real-life figures like George Washington and Samuel Adams were the original embodiments of patriotism during the birth of the country. The concept of patriotism is so powerful that the U.S. military has named missiles after it.
"Giant Demon Attacks a Ship," an Indian watercolor painted by a Jain artist sometime around 1775, is the one piece that Giants fans might interpret as a good omen for the game. In the painting, a large blue demon seems poised to destroy a British ship, filled with sailors dressed not so differently from the Patriots original mascot, Pat Patriot. Watch on Sunday to see how the real life matchups turns out.