Getting Negative With Edward Curtis
It's extremely rare to find negatives of Edward Sheriff Curtis, the iconic photographer of Native American life and the Old West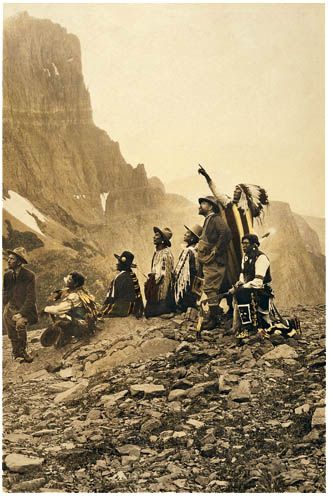 It's extremely rare to find negatives of Edward Sheriff Curtis, the iconic photographer of Native American life and the Old West. And that's what makes Jim Graybill's gift to Smithsonian's National Anthropological Archives all the more exciting. Graybill, the grandson of Edward Curtis, recently donated his collection of over 700 Curtis glass negatives and positives, which includes over 500 original negatives, 432 of which have not been published.
Curtis' photography served as an important historical record to capture a "romanticized" version of Native American culture as it was slowly disappearing, and his work culminated in an epic 20-volume project, The North American Indian, funded by J. Pierpont Morgan. In it, Curtis photographed and documented Native American life and traditions around the continent. He was not without his critics, however, for his manipulation of subjects and images. For the purpose of image "reality" and composition, Curtis at times posed Native Americans, had Native Americans re-enact ceremonies, or removed modern-day objects from photos.
"It's interesting that among Native Americans, even to the present, Curtis' work has a very strong resonance, because he ennobles them," says Jake Homiak, director of the Smithsonian Anthropology Collections and Archive Program. "They have a very positive, beautiful aesthetic. I would consider his style ethnographic romanticism, because he shows them in an immemorial timelessness, and that's all a part of dressing them, or asking them to appear before him in traditional dress with all the erasures of modernity. That was the style he mastered."
Curtis prints and photogravures are not exactly common, but they can be found in museums and at art dealers–it's Curtis' negatives that are difficult to find. "They're extremely rare," says photo archivist Gina Rappaport of Smithsonian National Anthropological Archives. "The original negatives, he probably made 40,000 during the course of this work. The negatives are the original object. Very few of these have survived. It's believed that most of them were destroyed over the years."
Watch the video above to see the items from the collection and hear more from Jake Homiak and Gina Rappaport.