Get the Folklife Festival in a Single App
Get schedules, maps and more for the Smithsonian Folklife Festival with a new app for your iPhone or Android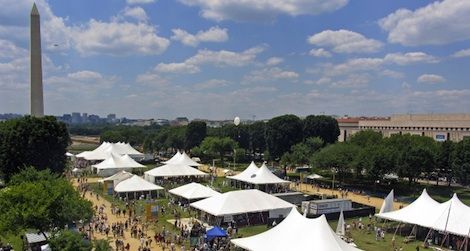 This year's Folklife Festival, kicking off Wednesday, just got a little bit smarter, younger and more hip.
The Smithsonian Center for Folklife and Cultural Heritage has created a festival app that can be downloaded to any iPhone or Android. It was designed to appeal to a new festival going audience, as well as dish out all the necessary information about the events.
"We are interested in making sure the festival feels modern and accessible to younger people," said Michael Mason, director for the center.
Mason and his team came up with the idea to create the app about two months ago, and it has launched just in time for the festival. Mason considers it an experiment to see how festival attendees respond to different events.
Simply put, the app operates as a go-to guide for navigating the festival. It includes a daily schedule, a map of the grounds, menus for all the food stands, a listing of festival hours and weather warnings. It also allows users to post pictures, links, videos and statuses to social media sites. Those savvy smartphone photographers might even find themselves on the receiving end of awards or giveaway prizes for posting the best photos, Mason said.
To aid festivalgoers in planning their outings, there is also a function to view bios and click on relevant links for every participant and event. All of this information can be found in the Smithsonian Folklife Festival website, but the app will provide more up-to-date information, including schedule changes and weather warnings.
The 10-day festival will feature four different stages and venues and will host dozens of dances, concerts, food demonstrations and presentations each day. The app will allow festivalgoers to make sense of it all and plan out their days right.
"We're trying to give people all the basic information they need for the festival," Mason said.
Download the free app now from the App Store (for iPhones) or Google Play (for Androids).