Get Face-To-Face With Ella…Ella…Ella…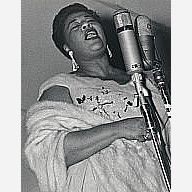 Ella Fitzgerald (1917-1996), that is. The First Lady of Song. Lady Ella. Mama Jazz. The legendary jazz singer with swing who "sang like she felt."
Thursday the National Portrait Gallery continues its participation in Jazz Appreciation Month with the second of their Face-To-Face Portrait Talks, this one featuring jazz singer extraordinaire, Ella Fitzgerald. Historian Amy Henderson will be on hand to evaluate photographer Lisette Model's gorgeous 1954 black and white shot of the singer, and to provide additional insights into Fitzgerald and the Austrian-born Model.
Introverted off the stage but free as a bird while performing, Fitzgerald first caught the public's eye back in 1938 with her jazzy pop twist on a nursery rhyme, recording "A-Tisket, A-Tasket" with Chick Webb's Orchestra. Fitzgerald took over the band upon Webb's death and then went solo in 1942, around the time bebop came on the scene. Bebop had a great influence on her stylistically, as she began incorporating scat singing, the technique of stringing together nonsense syllables, into her repertoire. Though other vocalists, like her childhood hero, jazz trumpeter and singer Louis Armstrong, had used the technique before, Fitzgerald took it to a new level. With her impeccable vocal control she was able to make her voice squeal like a muted trumpet or wail like a sax, improvising syllabic scat solos, deftly weaving in and out of the other instruments. "I stole from everything I heard," Ella said, "but mostly I stole from the horns."
Following her bebop years, Ella recorded eight critically-acclaimed multi-album sets of jazz standards for Verve between 1956 to 1964, with each set focused on different songwriter and lyricist, including band leader Duke Ellington, Cole Porter and the Gershwins. She also continued to tour during this period, cementing her status as one of the leading jazz performers of her time. Ella would eventually give her final concert in 1991 at Carnegie Hall after a career that spanned 59 years, including 14 Grammys and a National Medal of Arts presented to her by President Ronald Reagan in 1987.
Meet in the lobby of the  National Portrait Gallery this Thursday, April 22nd at 6:00 pm for some Ella. Like Frank Sinatra said, "The best way to start any musical evening is with this girl. It don't get better than this."