Georgia O'Keeffe Confirmed You as a Friend on Facebook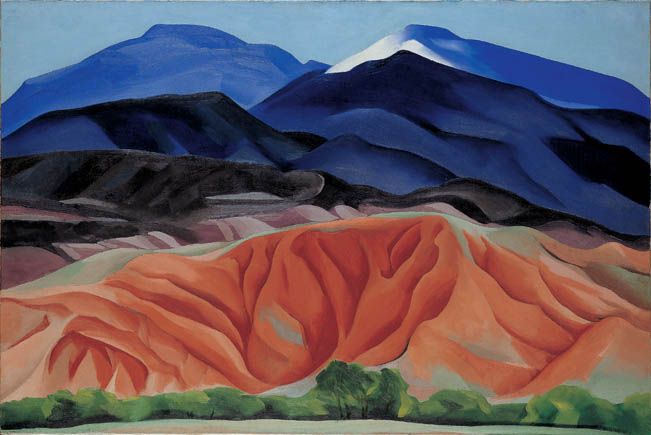 If Georgia O'Keeffe and Ansel Adams had friended each other on Facebook, what would the two icons of 20th-century modern art have shared with each other?
After all, the pair were friends for more than 50 years. She went camping with him in Yosemite. He stopped by her New Mexico home for visits. And no don't even think it, there was nothing sexual between them. They were both paired with others. She, to Arthur Stieglitz. He, to a wife and another lover.
Though friends, they only wrote a few businesslike letters to each other, nothing too personal. And in those they never discussed their work, which is remarkable because in a show that recently opened at the Smithsonian American Art Museum, "Georgia O'Keeffe and Ansel Adams: Natural Affinities," her paintings and his photographs share surprising similarities.
It's clear that the two friends are conversing in a lost dialogue, the evidence of which hangs on the museum's walls. It is but for the viewer to imagine what they could or would have said. In the serpentine trunk of her 1929 painting, "Dead Tree Bear Lake Taos," there's a similitude that can be seen in a craggy tree trunk depicted in his 1935 photograph, "Cedar Tree. Winter. Yosemite Valley, California."
The branches she painted seem to sag in sorrow. His branches are bitterly braced against a harsh winter cold. "They were pushing each other," says SAAM's curator Eleanor Harvey, "without being in the same state or even in the same time zone."
"Interestingly, they never worked side by side," says Harvey, "When Adams visits New Mexico, O'Keeffe takes him to her favorite places, but she is not making paintings while he is photographing the landscape or structures. When O'Keeffe visits California, she makes no paintings of Yosemite. Adams will on occasion take photographs of O'Keeffe, but that is the only manner in which they work in tandem."
What might they have said to each other then:"Adams (they used last names, that being the convention of the society of friends that hung out with O'Keeffe and Steiglitz), I've painted a chapel here in New Mexico. Its roughly hewn adobe walls gave my palette fits. I carefully imbued my whites with hues of blue, and shades of rose and green. I was searching for a way to render those rough rolling clay walls into a cool abstraction befitting that quiet little building on the plain." ("Near Alcalde, New Mexico," 1931 )
Would he then have responded: "O'Keeffe, I know a place like it, I recall I set my camera up last year at a New Mexico Chapel ("Chapel Near Hernandez, New Mexico," 1930s). It's cracked mud walls provided an abstract tension against the light of the sky and in the dark room, the brightness became a moody and dark frame around that quiet little building on the plain."
Asked if she thought the pair might have shared in this way had they had the easy access of a Facebook friendship, Eleanor Harvey laughed and said, "O'Keeffe would never have signed up for Facebook—imagine the time it would have taken to deny all those requests to be her friend… Adams, on the other hand, might well have found it another engaging tool for connecting with his audience."
(Images, Top: Georgia O'Keeffe, Black Mesa Landscape, New Mexico/Out Back of Marie's II, 1930; Oil on canvas, 24 1/4 x 36 1/4 inches, CR 730; Georgia O'Keeffe Museum, gift of The Burnett Foundation;© Georgia O'Keeffe Museum; Bottom: Ansel Adams, Winter Sunrise, the Sierra Nevada from Lone Pine, California, 1944 Gelatin silver print, 15 5/8 x 19 1/4 inches; Collection Center for Creative Photography, University of Arizona; ©The Ansel Adams Publishing Rights Trust. )