Gary Powers Kept a Secret Diary With Him After He Was Captured by the Soviets
The American fighter pilot who's the focus of Bridge of Spies faced great challenges home and abroad
As he floated to earth, parachuting toward the vast Russian steppe on the morning of May 1, 1960, American U-2 pilot Francis Gary Powers envisioned the "tortures and unknown horrors" awaiting him in a Soviet prison. He debated whether to use his suicide device—a poison-laced injection pin—hidden in a silver dollar coin and suspended, as he later described it, like "a good luck charm" around his neck.
President Dwight D. Eisenhower was relaxing at his mountain retreat, Camp David, when he learned that a U-2 "Dragon Lady" spy plane had gone missing. The subsequent news—that it had been shot down over Russia—came as a devastating blow. Eisenhower had been relying on the CIA's top-secret overflights to map suspected Soviet missile sites. The shootdown jeopardized a long-planned summit with Soviet premier Nikita Khrushchev in Paris, scheduled to begin May 16.
Thus began a sequence of fateful decisions, miscalculations and blunders that set in motion one of the tensest periods of the cold war—and serves as the backdrop to the new Steven Spielberg film, Bridge of Spies, which recounts the effort to negotiate Powers' release. Many artifacts associated with Powers' mission, including a rug from his prison cell and the journal he kept during much of his nearly 21-month imprisonment, are on display at the Smithsonian National Air and Space Museum.
Eisenhower had authorized high- altitude reconnaissance flights over enemy territory on the understanding that the Soviets would never get hold of a "live pilot." His aides assured him that the plane would virtually disintegrate before it hit the ground.
Confident that the evidence had been destroyed, the president approved a cover story claiming that a civilian "weather plane" had gone missing over Turkey. He was stunned one week later when Khrushchev disclosed that the U-2 pilot was "alive and kicking." Remnants of the plane were exhibited in Moscow's Gorky Park.
"Downed Pilot Alive," blared a Los Angeles Times headline describing Khrushchev's announcement before the Supreme Soviet. Although Khrushchev traveled to Paris for the summit, the Russian leader canceled the meeting when the president refused to apologize.
The human back story to this drama is reflected in the journal kept by the 31-year-old Powers, at the suggestion of his cellmate, a Latvian political prisoner, Zigurd Kruminsh. (Although sometimes described as a secret journal, the diary likely was known to the Soviets: The blank notebook was in a packet delivered to Powers by the American Embassy.) The diary, donated to the museum by the Powers family, opens with a detailed description of the U-2 shootdown. A Soviet SA-2 missile exploded near the spy plane as it cruised at 70,000 feet, over the Ural Mountains near the city of Sverdlovsk, ripping off both wings.
"Good Lord, I've had it now," Powers screamed to himself, he recalled in the journal, as the plane spun out of control—"in an upside down position with the nose pointing at the sky." After ejecting and parachuting into a field, he was captured by Russian farmers as soon as he hit the ground.
Powers later said that he received virtually no training for such an eventuality, and only minimal instructions on how to behave under interrogation. He testified at his Moscow show trial that it was "more or less up to me whether to use" the suicide pin, issued by the CIA "in case I was captured, [and] would rather be dead."
The journal provides a glimpse into the state of mind of perhaps the most high-profile prisoner of the entire cold war, chronicling his anguish over his unfaithful, alcoholic wife, Barbara Gay Powers. (The Soviets allowed her a conjugal visit, which she would recount in her memoir, Spy Wife—"I was swallowed up by our passion.")
History Film Forum: Secrets of American History
Explore how movies capture the past
History has never been hotter in Hollywood. And now a program at the National Museum of American History will screen upcoming films, including Ron Howard's In the Heart of the Sea and Matthew McConaughey's Free State of Jones, as well as controversial vintage works, such as The Birth of a Nation, to examine the dilemmas of portraying the past on the big screen. November 19 to 22. (Image courtesy of Warner Bros. Pictures)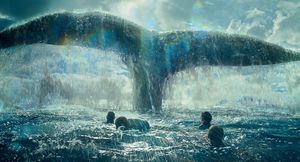 History Film Forum: Secrets of American History
The pilot also expressed his doubts about U.S. foreign policy, and his desperate hopes for early release. In his cramped hand, Powers talks about becoming "a nervous wreck," kept sane in part by Kruminsh, "one of the finest people I have ever known."
Based on extensive research, the pilot's son, Francis Gary Powers Jr., now believes that Kruminsh was probably "a plant," assigned by the KGB to keep an eye on his fellow prisoner. He also thinks that his father was subjected to intense "psychological pressure." "He was not tortured," says Powers Jr., founder and chairman emeritus of the Cold War Museum in Warrenton, Virginia. "But there were bright spotlights, grueling questions, sleep deprivation, threats of death."
On February 10, 1962, Powers was exchanged in Berlin for a Soviet spy, Rudolf Abel, on Glienicke Bridge, the site central to the Spielberg film.
Powers returned home to criticism that he should have activated his suicide pin rather than be captured; a Congressional hearing in March 1962 exonerated him. He divorced in January 1963. As a civilian, he began test-flying U-2s for Lockheed. Later, he piloted traffic-reporting helicopters for a Los Angeles TV station. Powers died on the job in August 1977, when his aircraft, which had a faulty gauge history, ran out of fuel and crashed.
It took Powers' family many years to refute the allegation that the pilot had a duty to kill himself. In 2012, the Air Force posthumously awarded the Silver Star Medal for Powers' demonstration of "exceptional loyalty" to his country during his captivity.  
Related Reads