This Ambitious Landmark Hip-Hop and Rap Anthology Was Successfully Funded
Smithsonian's nonprofit record label launched a Kickstarter for help and got it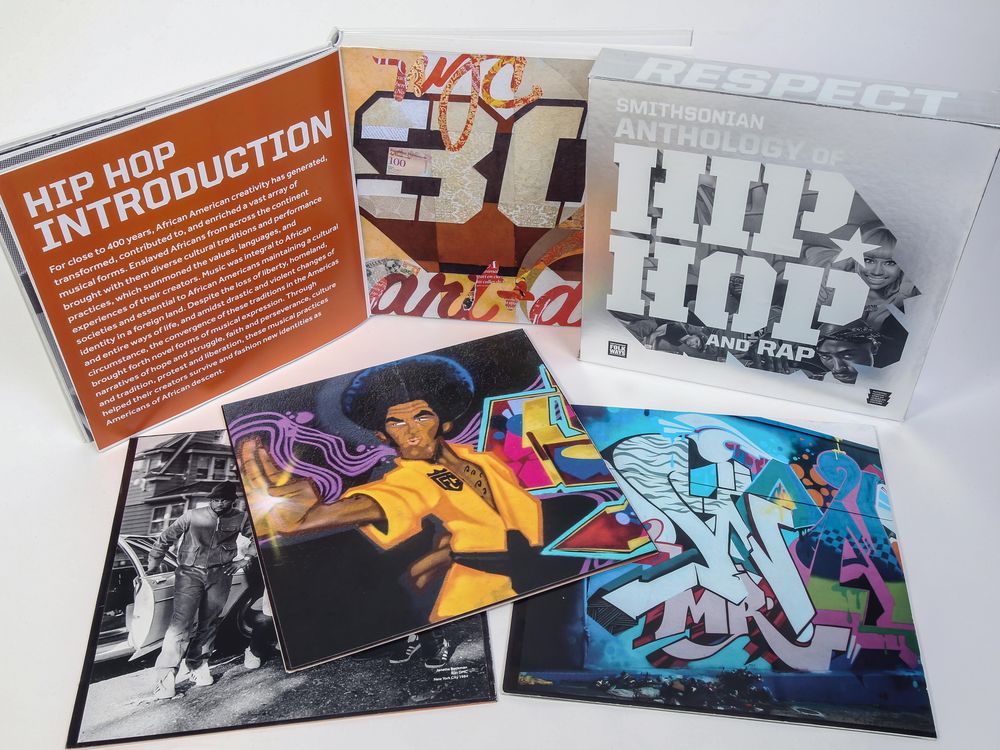 Ed Note 11/16/2017: The Smithsonian Anthology of Hip-Hop and Rap Kickstarter campaign ended successfully with a total of $368,841 funded by nearly 3,000 backers. The original goal of $250,000 had been met eight days earlier. "We have shown how the world has fully embraced the importance of hip-hop to American culture," said the museum's director Lonnie Bunch.
Few cultural phenomena capture the complexity and tension of modern American life better than the ascendance of hip-hop and rap across the past four decades. Characterized by impassioned, rapid-fire lyrics laden with rhyme, alliteration and other poetic devices, the twin art forms have distilled both the lived experiences and the elusive aspirations of African-American communities all over the country into infectious, pulsating music.
Oftentimes, the art is as critical as it is catchy. It throws social inequities into sharp relief, and implicates the work of other artists via sampling, forcing listeners to consider it in a new light. And while much hip-hop and rap has acted as a force for uplift in neglected urban enclaves, there is a darker side to the music too, a side notorious for its violent anger and exploitative themes. Now a worldwide sensation, hip-hop and rap are filled with as many contradictions and questions as the nation in which they arose.
In an effort to illustrate the nuances of rap and hip-hop across their rich histories, and to celebrate the ingenuity and enduring relevance of their pioneers, nonprofit record label Smithsonian Folkways Recordings, in collaboration with the National Museum of African American History and Culture, has embarked on a project of unprecedented scale: the production of a nine-disc chronological compendium of over 120 songs from the two groundbreaking genres.
The Smithsonian Anthology of Hip-Hop and Rap, no trifling "greatest hits" collection, will contain cuts painstakingly selected by a panel of artists, music critics, academics and industry pooh-bahs. All three major international music labels—Warner Music Group, Universal Music Group and Sony Music Entertainment—will be represented.
And the music itself is just the beginning. To contextualize the various tunes, and to tease apart the thematic strands uniting them, numerous scholars and songwriters will contribute original essays, the museum will supply never-before-published photography, and Folkways will provide extensive liner notes in conjunction with the printed song lyrics. All told, the supplementary materials, presented seamlessly in a single reference volume, will span 300 pages. The aesthetic vision for the package will be left to none other than Cey Adams, former artistic director for Def Jam.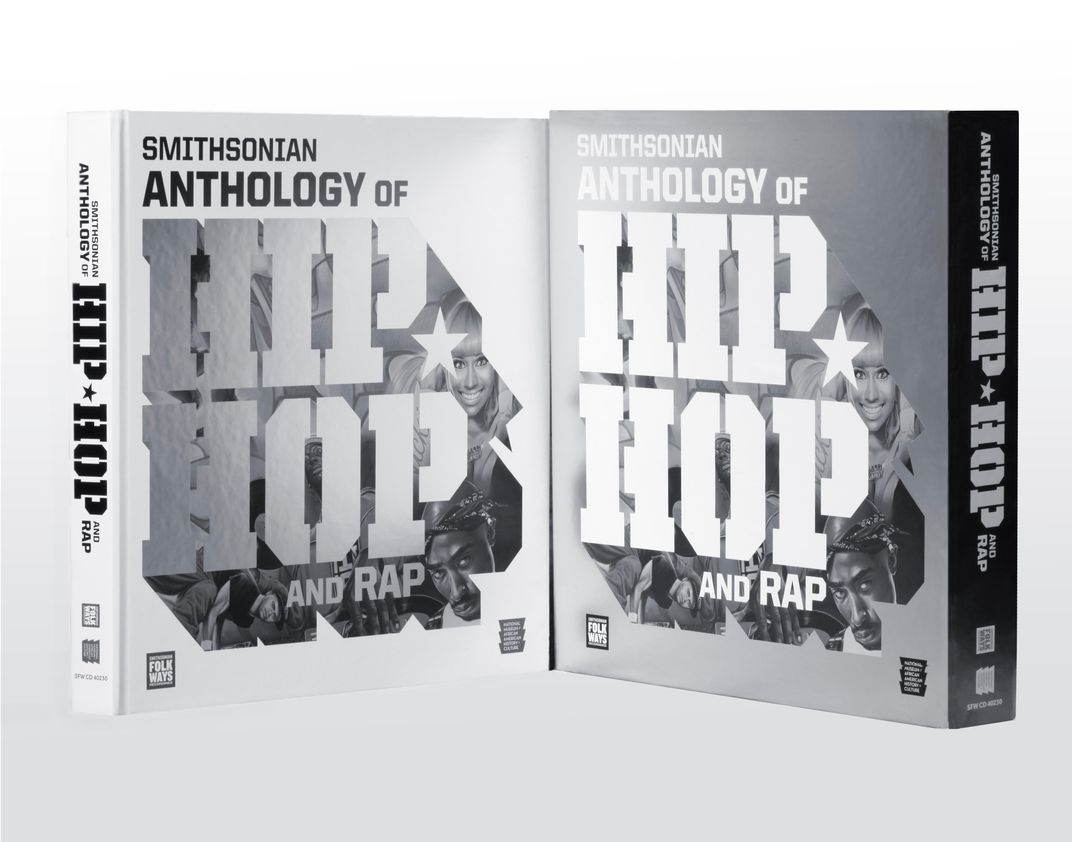 "We anticipate getting something which is a perfect mix of image, words and music," says Huib Schippers, director of Folkways, "which is very much representative of what hip-hop culture is."
Indeed, the blending of disparate forms of pop culture is at the very heart of the hip-hop tradition. So too is community involvement, and Schippers and his Folkways colleagues have just launched a Kickstarter campaign to raise $250,000 or more to put toward production costs. "It's always wonderful to contribute to a project that documents major cultural movements," Schippers says.
In case that's not enough of an enticement, Folkways is also offering donors a juicy deal: everyone who contributes upwards of $100 will receive advanced access to the anthology at production cost—far cheaper than they would pay for it commercially. Other tantalizing rewards, including a tour of the museum with Questlove of The Roots, are also on offer.
Folkways will need all the help they can muster. Schippers tells me that "the whole production cost is close to $1 million"—the label will need to sell thousands of the finished anthologies to break even. For Schippers, the undertaking has always been a labor of love. "It's a very big project for a very small record label," he says, "but it'll be worth it. We're delighted to be working with NMAAHC on it. We have no regrets so far, and we're full of confidence the Kickstarter will work."
Dwan Reece, curator of music and performing arts at African American History Museum, shares Schippers's passion for the project. This music "is really part of a cultural evolution," she says. "We learn from the past, we take from the past, and reinvent a new perspective—a new way of creating music, a new way of speaking about music and expressing ourselves. That's really part of an ongoing tradition, and in a sense a continuation of the African-American experience."
There is no doubt in Reece's mind that hip-hop and rap deserve the attention of an institution like the Smithsonian. "We explore history and culture from all diverse perspectives," she says. "Sometimes people think, 'Why is hip-hop at the Smithsonian?' Or, 'Why is hip-hop in a museum?' It's because it's worthy of preserving, and it tells us so much about ourselves and where we are today."
From rock 'n' roll to jazz, popular music across the eras has always come under scrutiny from the old guard. Hip-hop and rap are no exception, and the essays and liner notes of The Smithsonian Anthology of Hip-Hop and Rap confront their controversial aspects head-on. The music in the collection exhibits both the genres' positivity and negativity, Schippers contends, citing the violent, misogynist lyrics as well as the messages of empowerment and support of movements such as Black Lives Matter. "Most of the things in history, and most of the things in our museums, have these two sides," he says.
Whatever one's personal thoughts on hip-hop and rap music, there can be little debate that the two related art forms have come to shape African American culture, and American culture more broadly, quite significantly. Schippers and Reece believe that The Smithsonian Anthology of Hip-Hop and Rap is a project that everyone can get behind, because hip-hop and rap inform our day to day experience of our country, whether we are cognizant of it or not.
By donating to this Kickstarter campaign, Reece says, "you're contributing to telling the stories, the important stories, that the museum and Folkways want to tell—exploring how music really defines a culture, and how it defines who we are. You become part of that community in supporting this story, and raising the profile."