From the Castle
Smithsonian 2.0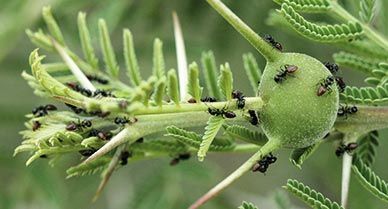 I asked a group of new millennials—the generation born in the 1980s and later—how the Smithsonian might better reach them. "Surprise me," one young woman answered, underscoring why we must make our behind-the-scenes resources—staff experts, huge collections and extensive research—more visible and directly accessible. Those resources join together in the ongoing creative process, itself fascinating, that supports exhibitions and public programs—the tip of the iceberg. Researchers at the Mpala Research Center in Kenya certainly surprised me during a recent visit. Elephants, giraffes and other large animals are obviously important in the web of life there. But it is ants—and the fungus they grow inside the essential acacia bushes—that play a key role in keeping grasslands healthy.
The Smithsonian Institution is undergoing transformative changes in response to the Web, and staging innovations—such as online conferences—never before possible. The first, on Abraham Lincoln, was attended by thousands of teachers and students in 75 countries. The next conference, from September 29 through October 1, will be about global climate change. Participants will interact with Smithsonian ecologists, tropical biologists and paleontologists, among numerous other experts, and take part in real-time virtual field trips. To view the Lincoln conference, to register for the upcoming climate change conference and to learn about the many other Smithsonian educational programs, visit Smithsonianeducation.org.
The need for such programs is urgent. In rankings of the Organization for Economic Cooperation and Development's 30 free-market countries, American 15-year-olds came in 21st in science and 25th in math. Only 71 percent of our students graduate from high school in four years. The Smithsonian can inspire students by connecting them with astrophysicists studying stars, biologists tracking carbon sequestration in rain forests and ecologists monitoring the Chesapeake Bay.
Key supporters are helping. Recent gifts from Regents Alan Spoon and Robert Kogod will support our Web activities and, of utmost importance, allow us to better integrate our varied education efforts. The Smithsonian National Board is supporting interactive Web methods and digital technology projects involving outside organizations and individuals. The Smithsonian American Art Museum, for example, is working with Cisco to help educators use Web 2.0 tools to integrate art into subjects across school curricula. This initiative is especially timely since arts programs are often the first to go during budget cuts. Ours is a time for rethinking the role of the Smithsonian—a time for turning the iceberg upside down.
G. Wayne Clough is Secretary of the Smithsonian Institution