From Morning Glory to On Golden Pond, Four Oscars for Kate Hepburn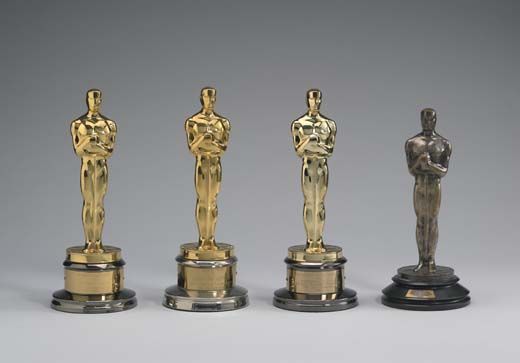 In 1981, when Katharine Hepburn received an Academy Award, starring with Henry Fonda in On Golden Pond, she became the first woman ever to win four Oscars for Best Actress—a record that remains to this day. Yesterday, all four of her Academy Awards went on view at the National Portrait Gallery.
Her 1934 award for her leading role opposite Douglas Fairbanks, Jr, in Morning Glory is distinguished for being the first Academy Award to officially be named "Oscar." In an article about the award ceremony, a young Hollywood journalist Sidney Skolsky referred to a backstage nickname often used by performers and wrote, "Katharine Hepburn received the Best Actress Oscar for her performance." (Although it didn't become official with the Academy until 1939.)
The 1934 award is also said to have been lost for a time in a devastating 1938 hurricane that destroyed Hepburn's New England home, but it was later recovered intact.
MGM art director Cedric Gibbons designed the Oscar statuette in 1927, and Los Angeles sculptor George Stanley crafted it. The figure stands on a film reel with five spokes, one for each original branch of the Academy of Motion Picture Arts and Sciences: actors, directors, producers, technicians and writers.
Hepburn's first Oscar is unique in more than one way. In 1945, the Academy changed the design of the award slightly. The platform was raised and the height and weight standardized at 13.5 inches and 8.5 pounds. The original Oscar was made of gold-plated bronze. The newer version is made of britannia, a metal alloy made mostly of tin, and coated in 24-karat gold. Hepburn's later awards are in this style.
Hepburn's other awards are for Guess Who's Coming to Dinner (1967) and The Lion in Winter (1968).
Hepburn quickly became one of America's favorite leading ladies. In 2008, the Portrait Gallery held an exhibit celebrating what would have been her 100th birthday. Curator Amy Henderson visited with the actress in her home before she died to discuss the donation of a portrait to the museum.
The awards will be displayed next to Hepburn's 1982 portrait by Everett Raymond Kinstler in the "Twentieth-Century Americans" exhibit on the third floor.