Francis J. Underwood's Presidential Portrait Goes On View at the Smithsonian
A portrait of actor Kevin Spacey, in his Netflix role as the world's most devious president, proves that fiction is as good as real life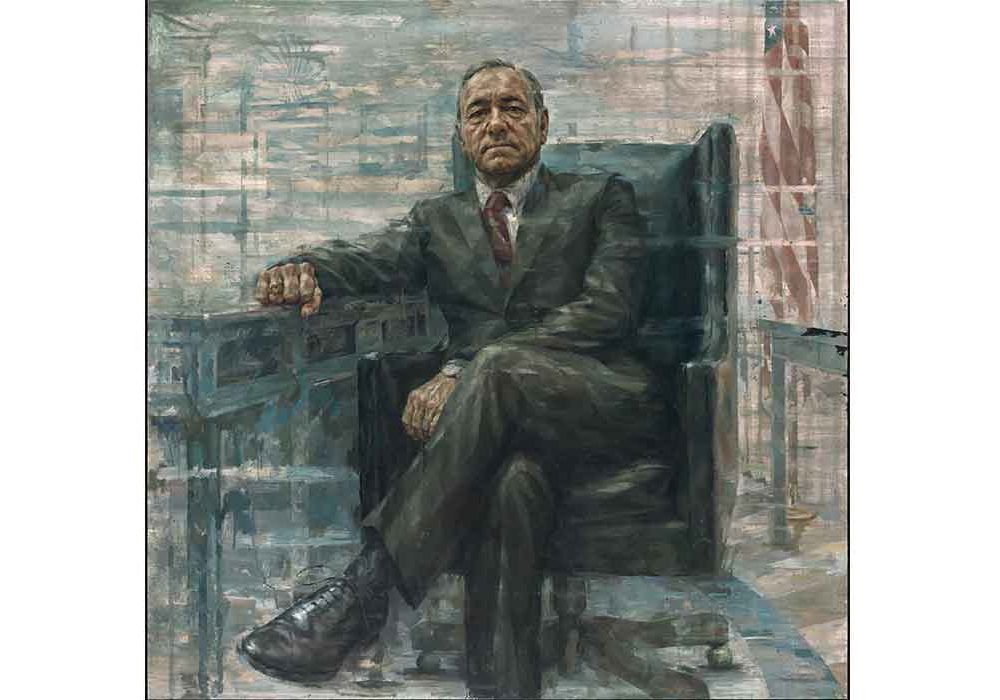 Since Smithsonian's National Portrait Gallery is the only place outside of the White House with a complete set of presidential portraits, it figures that it would start to collect ones of fictional presidents as well. 
On February 24, a week before the premiere of the fourth season of Netflix' "The House of Cards," the Portrait Gallery began to display a handsome six-by-six foot portrait of its lead character President Francis Underwood by the British portrait artist Jonathan Yeo. 
When it was unveiled a couple of days earlier, Kevin Spacey, the actor who won a Golden Globe and two Screen Actors Guild Awards for portraying the imperious president, was on hand to pose for the unveiling, just as real presidents do.
And he was pleased. "For me what makes it so satisfying is when I look at the portrait and I don't see myself, I see the character," Spacey says.
In the portrait, which looks not so different than more modern commissioned portraits of actual Presidents, from Aaron Shikler's official portrait of John F. Kennedy or Everett Raymond Kinstler's Gerald Ford, an impressionist depiction of Underwood is surrounded by broader, more abstract strokes that nonetheless suggest the surroundings of the Oval Office desk and an American flag behind him.
"There's a formality of the genuine official portrait," Yeo says, but at the same time it has what he calls "the more loose, lateral brush strokes in it, to suggest a digital image flickering on a screen, to suggest what this show has meant in terms of how we consume the media."
The success of "House of Cards," which began in 2013, lead to the rise of Netflix and the habit of television watching as one that can be binged, several episodes at a time, at a timetable suitable to each viewer.
When hung, the portrait is intended to look down at the viewer, to emphasize the fearsomeness of the ruthless politician portrayed, such that with the shoe sticking prominently forward from his crossed legs. "I think when it is hung at the right height, you may wonder if I'm going to kick you in the face," Spacey says, "which seems appropriate for this particular character."
"We tried some behind the desk, but the desk was too much of a safe barrier," Yeo says in an interview. With the prominent foot, "it does add to the sense of looming threat, that he's bigger than life in it. The way it will hang is that he'll be looking right down at you, and you'll feel uncomfortable without getting too close to it."
As convincing as it may be as a presidential portrait, the work stands apart from the actual "House of Cards" in that, unlike the popular portraits of Stephen Colbert's character from "The Colbert Report" that hung in the Smithsonian, it won't have also been seen on the show. Though Netflix has released a clip of the portrait's unveiling at the museum with director Kim Sajet pulling back the curtain for the big reveal before an audience that included the real life White House press corps.
"Of course usually portraits of presidents aren't unveiled until after they leave office," Spacey notes, "but since Francis Underwood doesn't believe in term limits I see no reason why he shouldn't be unveiled now."
It is the second portrait of Spacey in character for Yeo, who has become one of the more prominent portrait painters of his generation in the UK. His first of Spacey had him as another leader, when he played Richard III in a Shakespeare production in 2013. 
As such, this painting was easier, Yeo says, since, "I know him a bit better now."
Yeo has painted other actors, including Dennis Hopper, Nicole Kidman, Idris Elba and Helena Bonham Carter, but he has also painted British leaders including Tony Blair and David Cameron.
"It's an interesting thing to paint actors," Yeo says. "They make for interesting subjects because they spend a lot of their lives thinking technically about how they appear."
A third painting of Spacey, in his role at the Old Vic as Clarence Darrow, is expected to be finished this year, Yeo says, and it will be different in that "it's going to be in the dressing room rather than on stage, so it's going to be a bit about his relationship with the character. 
"It touches on the thing of at what point does he become the character? Is it when he wakes up in the morning? Is it when he gets to work and puts his clothes on? Is it when he gets on stage? That whole area, which we talk about a lot, is something that's endlessly fascinating."
Yeo says he likes the idea of doing several portraits of Spacey over his career, "so that at some point, maybe in 10 years, you'll have a room of all these pictures of him as different characters. 
"It may answer that question of whether he's totally immersed in that character and they're totally different or whether you can see clues that are consistent through all of them," he adds. "He's certainly someone who keeps surprising me."
National Portrait Gallery chief curator Brandon Fortune says, "There's an enormously long tradition of portraits of actors and other performers in roles and we have a number of those portraits in our collection."
At the Portrait Gallery, it goes back to an 1830 painting of the actor Ira Aldridge as Othello by Henry Perronet Briggs and also includes a Time magazine cover photo of Robin Williams as Mork from 1979 and a 1971 painting of Ethel Merman as Annie Oakley in"Annie Get Your Gun by Rosemarie Sloat that the actress commissioned but donated to the museum.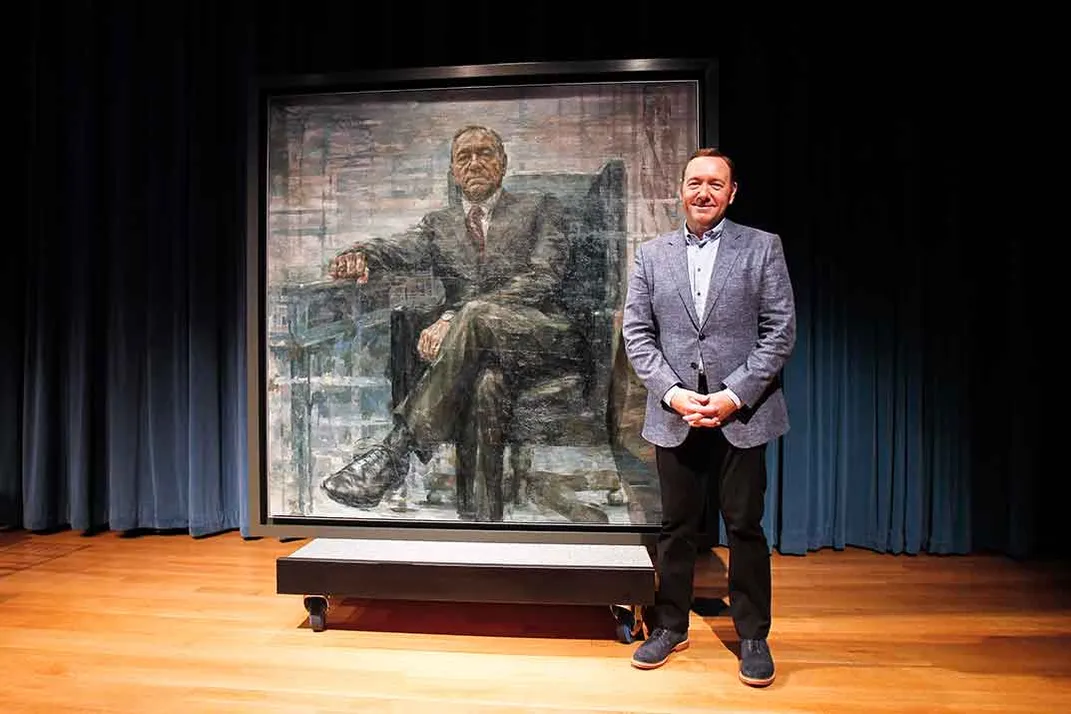 Most recently, a 2010 portrait of Katy Perry in her role as as "Cupcake Perry" by Will Cotton went on display in 2014, the promised gift of the James Dicke Family. 
The Underwood painting is on loan from the artist until the museum finds a donor to underwrite it.
Yeo came close to painting an official presidential portrait, when he was commissioned in 2004 to do George W. Bush. "It was just before the 2004 election, and they didn't expect him to win it, and then he did, and the whole thing got shelved," Yeo says. 
Having already started some sketches and ideas of Bush, he went ahead and made a 2007 portrait anyway, which became notorious because it was made up as a collage of models from pornographic magazines.
 "I was a bit disgruntled with the way they'd messed me around," Yeo says, but mostly he was poking fun at him "without getting overly preachy or bogged down into metaphorical war problems." (He did similar portraits of Tiger Woods and Sarah Palin that were unveiled at a 2010 Beverly Hills show titled "Porn in the U.S.A.").
"Humor anyway is often a much more effective way of gently undermining someone," Yeo says. "I haven't asked him what he thought about the picture. I imagine he found it funny, since he had a great sense of humor." 
At the press conference unveiling the Underwood portrait, political reporters largely wanted to know what either Spacey or his character thinks of the current U.S. political race.
Spacey, who earlier this year called the race "amusing," would only say, "it's getting less amusing," adding, "Listen, I have an election to win myself. I can't spend any time thinking about what's going on in the real world. I have a fictional election to win."
His Underwood character is in the midst of a 2016 re-election bid when the fourth season picks up March 4.
The portrait of Kevin Spacey in the role of President Francis J. Underwood from "House of Cards" will remain on view at the National Portrait Gallery through October 2016.