FOOD: An Edible Exhibit Examines Our Many Culinary Cultures
Just in time for Thanksgiving, an exhibit all about what we put on our table at the American History Museum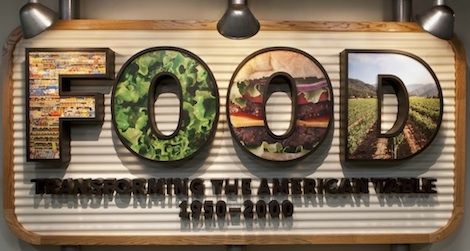 Like all good dinner tables, the wood table at the center of the American History Museum's new exhibit, "FOOD: Transforming the American Table 1950-2000" sits right in the middle of a jumbled, sometimes contradictory dialogue. But rather than playing host to political debates or family dramas, this time the table is a catalyst for conversation about America's recent food history. From drive-throughs to Tupperware, Good Food revolutions to grill culture, the exhibit brings together many of the corners of our metaphorical kitchen.
A series of display cases contain a sort of "best hits" of major food moments, each with color-coded headings, like "Mexican Food Revolution." But it's a deceptively simple presentation. A closer look at the stories behind, say, a chain of Tex Mex restaurants, reveals the complexity of every item in the show. The same mass-produced 1954 Swanson TV dinner tray that was seen as a way to free housewives from the stove would find itself the enemy of the back-to-the-land movement.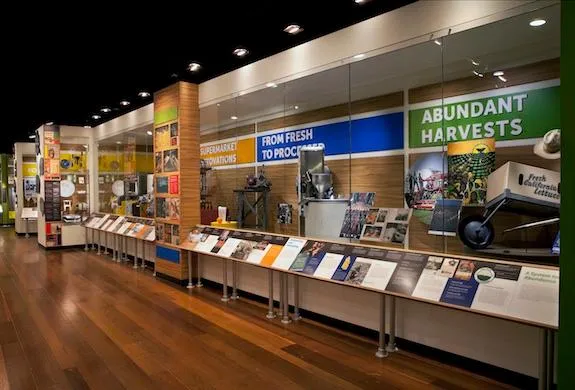 Even the story of a single product carries contradictions. Fritos chips, now just another in a long list of snacks from PepsiCo's Frito-Lay, began as a natural foods snack, an adaptation of a popular Mexican item. Charles Elmer Doolin bought the recipe from Gustavo Olguin and used his mother's input to experiment with the final product. Doolin's daughter, Kaleta says she grew up vegetarian, eating an almost salt-free diet (her father would occasionally snag a few Fritos from the conveyor belt, before they were salted, according to NPR). Doolin says her father envisioned Fritos as a simple, natural side. She claims, "It's still the favorite snack food of vegans, to this day."
Vegans and meat-eaters alike embraced the new snack offerings. Between 1950 and 2000, says exhibit curator Paula Johnson, "We became a nation of snackers." A chart from the show indicates the precipitous increase of snack and condiment options between 1968 and 1998. A steep spike hits in the 70s, so that by the time it reaches 1998, the options jump from just below 500 to slightly fewer than 2,500 products . The next runner up is baked goods, hitting just under 1,500. Fruits and vegetables don't even get close.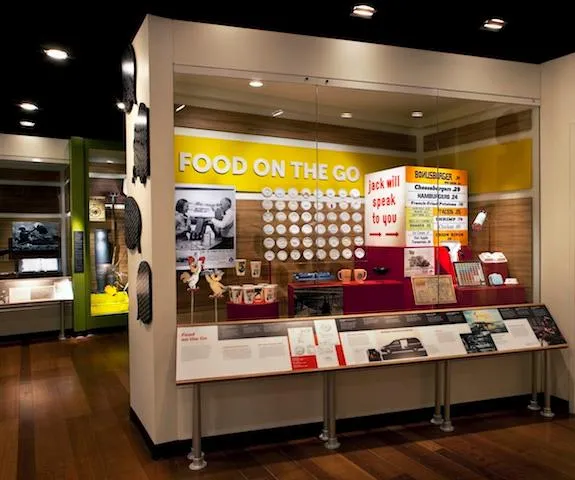 But among those condiments, yet another story emerges from a display case across the room. "One Big Table" presents the many products that have found their way to America through waves of immigration, including the now commonplace condiments of sriracha, Tapatío and more. Not only did we become a nation of snackers, but we continued to incorporate new cultures into our supermarket aisles.
Though items like the 1955 Tappan microwave oven that's almost as large as a conventional oven have changed quite a bit over time, many are straight from today's pantries and cupboards, literally. A yogurt maker from the "Countercultures" display is temporarily on loan from Warren and Amy Belasco, because, as Johnson says, "they're going to go back to making yogurt."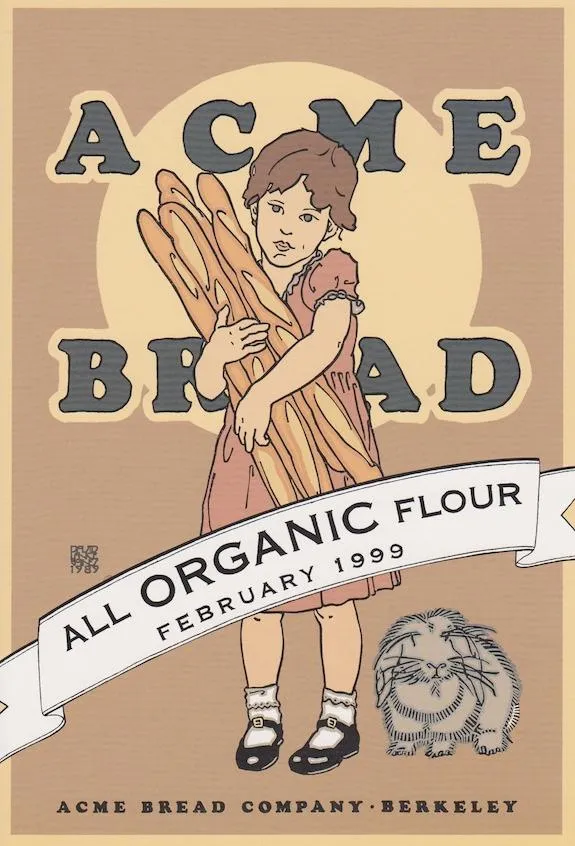 Rather than fall out of favor, most of the movements in the exhibit have only spread, even as they seem to compete. The Good Food movement, for example, represented here by local, sustainable food icon Alice Waters, has as much support now as ever and has only been strengthened by the migration of the Slow Food movement from Italy. Meanwhile, demands for fast, on-the-go food are just as common: decades after the first drive-through was launched, a 1997 Chevy minivan came equipped with a whopping 17 individual cupholders.
"It's almost like a dialogue," says another curator Rayna Green of the competing philosophies. Talking about the various strains of food counterculture, Green highlights the contrast between the Black Panthers' food programs and the Good Food movement. Both grew out of a rejection of a capitalist food system that favored profit over both equality and quality. Indeed, the two movements grew up next to each other in the East Bay, one rooted in Oakland's fight for social and economic justice and the other centered down the street in the Berkeley kitchen of Waters' Chez Panisse.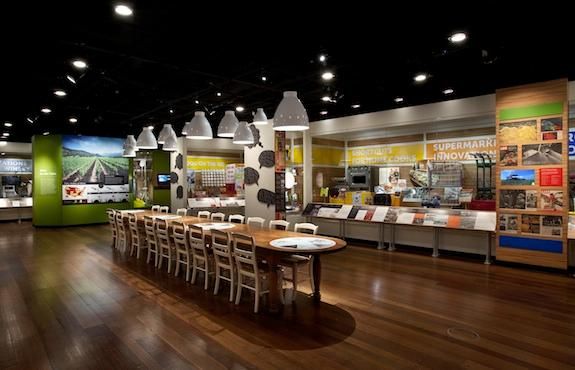 But the two movements often attract decidedly different constituents. Still, Green says, "They all exist together." And, she argues, they do influence each other. For example, an economic concern for access and a culinary appreciation of quality, overlapped recently when farmers' markets began accepting food stamps.
"This food business, it's not just about food," says Green, touching on the one unifying thread throughout each of the exhibit's sections. The curators hope visitors will look through the exhibit and then take a seat at the central table to hash out precisely what food is about, whether it be identity, lifestyle, politics, class, race, gender or all of the above.
"FOOD: Transforming the American Table 1950-2000" opens November 20 at the American History Museum.