Follow the American History Curators at the Democratic National Convention
We catch up once again with the curatorial dynamic duo of Larry Bird and Harry Rubenstein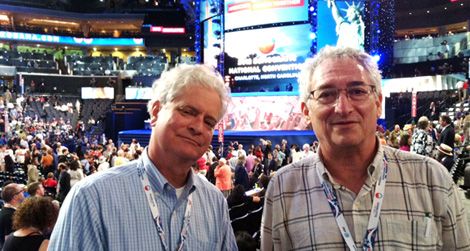 Larry Bird and Harry Rubenstein could have been forgiven if on Wednesday they confused the Democratic National Convention in Charlotte with last week's Republican convention in Tampa. Just as the fledgling Hurricane Isaac played havoc with the first day of the GOP schedule, the threat of Thursday night rain led to a change of plan for President Obama's address.
But the two curators for the National Museum of American History were keenly attuned to their surroundings Wednesday evening as delegates filed in to Charlotte's Time Warner Cable Arena for a round of speeches leading to former President Bill Clinton's appearance deep into prime time. "The themes are different, the arenas are different, and there's always a difference when the party of the incumbent meets," Bird said.
Yet his mission, and Rubenstein's, remained the same as it was in Tampa, and at presidential nominating conventions going back to the 1980s. There on the convention floor, they were hoovering up material expressions of people's engagement with the political process–the buttons and banners and posters and, yes, funny hats people wear or carry at the convention. With the passage of time, even a funny hat can document a campaign issue or theme.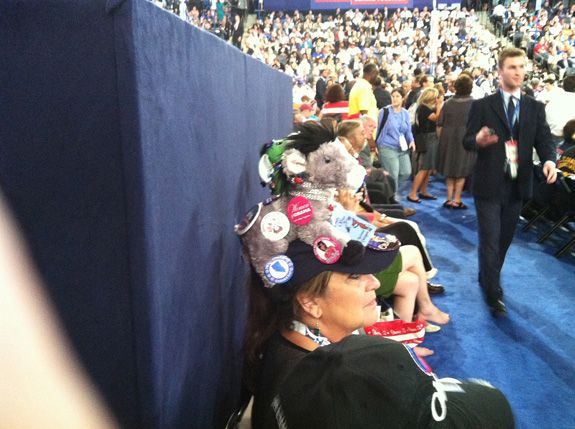 One difference Bird noted between this year's conventions was that it was harder to walk around Charlotte's Time Warner Cable Arena than in the Tampa Bay Times Forum. "The delegates here aren't all on the arena floor; they're up in the seats," he said. As he spoke, a delegate walked past carrying a Teddy bear with enough Obama pins in it to set off the most distant metal detector, and another slid by with a giant red tricorner hat on his head and a Virgin Islands license plate affixed to the back of his vest. "Sometimes," Bird said, "you want to just want to let this whole thing wash over you."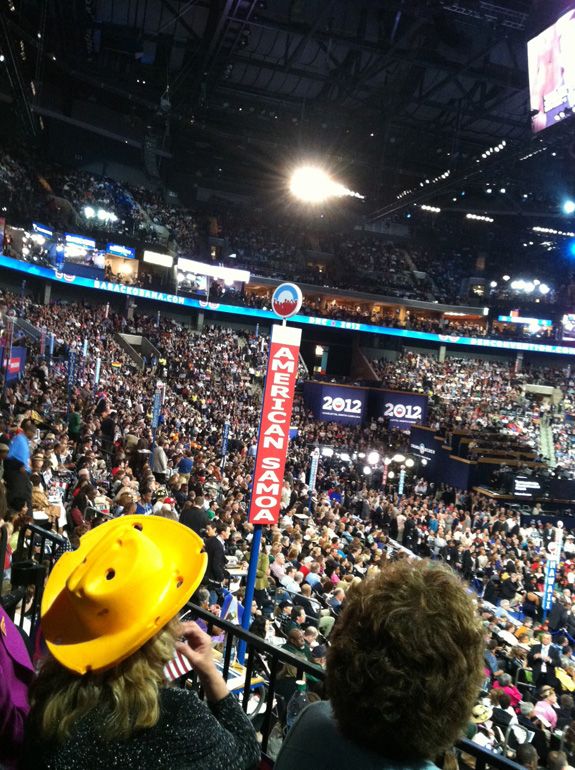 Instead, he and Rubenstein secured a stash of the pre-printed signs that would suddenly bloom during the speeches that night. And earlier, they had taken reporters from CBS, the Charlotte Observer and National Public Radio on what they call "walk-arounds" to show them how the political-history curation game works (I.e., see stuff, desire stuff and ask politely for the donation of said stuff after the done is done with it.)
If getting around the arena was tough on Tuesday and Wednesday, it promises to be prohibitive Thursday night, when Obama is scheduled to give his speech formally accepting his party's nomination. Before the rain clouds loomed, that event had been scheduled for the Bank of America Stadium. Now it's scheduled for the arena, which holds about 50,000 fewer people. "It's going to be interesting to see how the organizers adjust," Bird said.