A Firsthand Account of What It Takes to Pilot a Voyaging Canoe Across the Ocean
More than just a desire to learn, a seat aboard the historic vessel Hōkūle`a requires skill, dedication and well, …obsession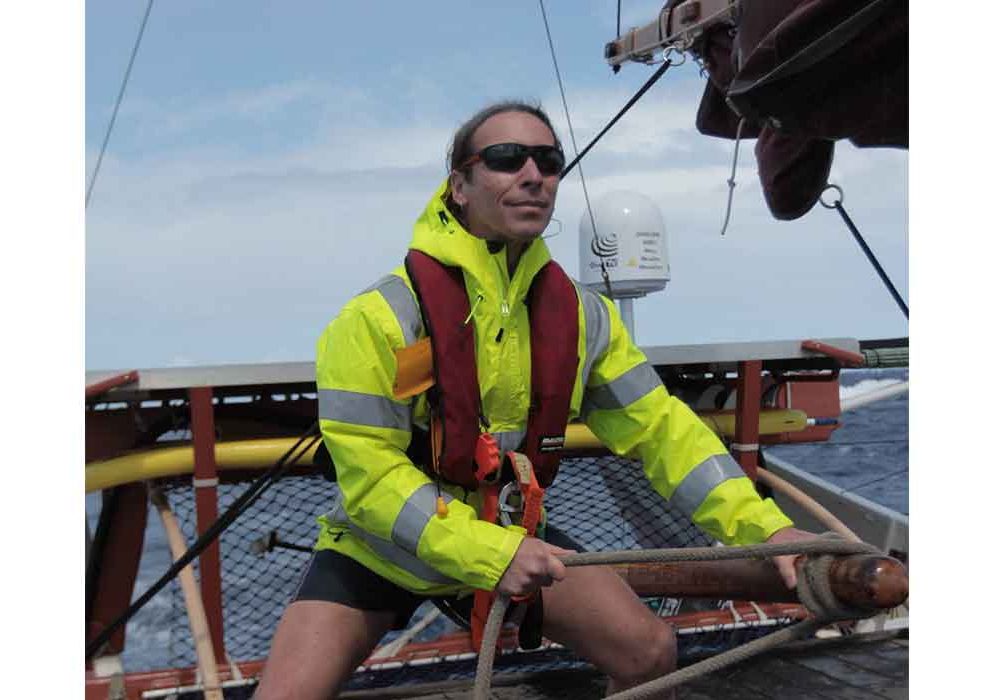 It's nighttime. The winds are blowing at 27 knots, with gusts of 35 to 40, and the seas are heaving at 15 feet. It's close to midnight and we are out in the middle of the 'Alenuihaha channel between the islands of Maui and Hawai'i, aboard the 72-foot modern voyaging canoe Hikianalia.
It's been a pretty smooth ride up to this point. In fact, we were towed all the way to the end of Maui from Honolulu Harbor, because the winds were dead against us. Entering this channel feels like the beginning of a true voyage. Now we have the sails up and the twin hulls of the canoe are gracefully stable despite the large waves.
I am at the helm with a young trainee, Ka'anohiokala Pe'a, and we are guiding the canoe by Mars over the starboard boom. Half of our crew of 12 is asleep below, in bunks inside the hulls, while the captain and navigator sleep in a little hut on deck.
What brought me here is the same thing that brought all the rest of the crew members here: an enchantment with oceanic voyaging, spurred by that great icon of cultural pride: the Hōkūleʻa. And for those of us who are trainees, a hope to crew on a leg of Hōkūleʻa's Worldwide Voyage.
I first learned about the vessel in about 1986, two years or so into my move to Hawai'i to study geography in graduate school. One of the founders of the Polynesian Voyaging Society, Ben Finney, was a professor of anthropology on the next floor down. He came up and gave us a talk one day about Hōkūleʻa, and I was immediately hooked. As years went by, I would meet the great navigator Pius Mau Piailug not once but twice, interview navigators and voyagers, and I have written and lectured about how the voyaging canoe teaches us not only how to live on small islands, but how to live on our island Earth. And in 2013, I built my own outrigger canoe.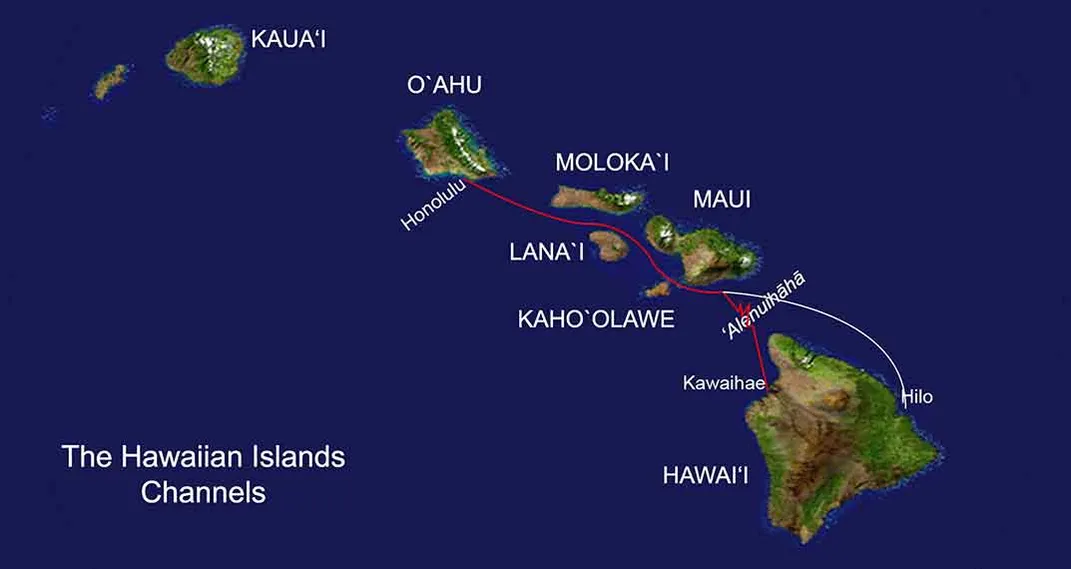 Now, there was just one thing left to be done: go voyaging.
"Okay, it's time to tack," announces our watch captain, Nahaku Kalei, a vibrant young woman who has been setting our course. We prepare to tack—to turn the bow of the canoe from one side of the oncoming wind to the other, which would change our direction by maybe 45 degrees. We try to tack. The canoe starts to turn, then slides back to its previous course. We try again. It doesn't work.
Now all the crew is up, including the captain and navigator, and we try all kinds of tricks. We take down one of the sails to try to leverage the wind's push on the boat. Not only does it not work, but also the sail jams as we try to raise it back up, and we spend an hour (or so it seemed) in 15-foot seas hoisting people up the mast to try to fix it.
The name of this channel, 'Alenuihaha, means something like "big waves, feel your way through." The giant mountains of Haleakala (10,000 feet) and Mauna Kea (13,700 feet) on either side not only force the ocean roughly through this pass, but the wind as well. We are all wearing foul weather gear. Some are or have been seasick, and I will be soon.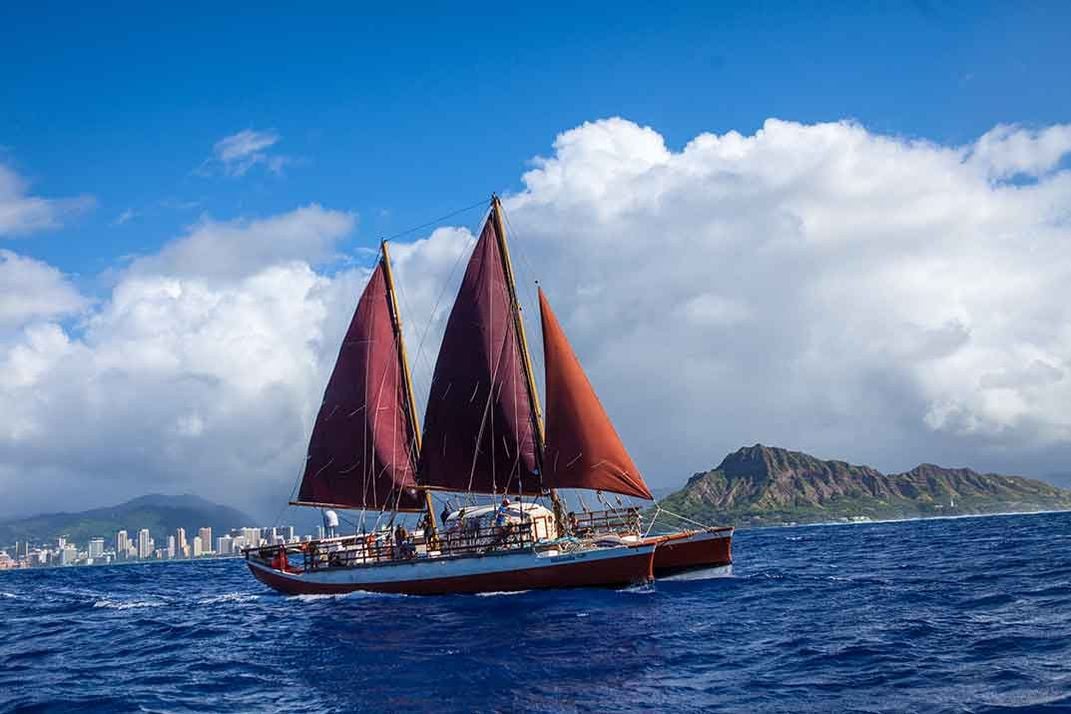 But at this moment—indeed at all moments of this short voyage—spirits are high. Everyone is trying to help, attending eagerly to what needs to be done, or pitching in wherever they can. There is no sense of fear or danger—many on this canoe have seen much worse. I am thinking about when Hōkūleʻa flipped over in 25-foot seas, back in 1978, and the crew was left clinging to the hulls overnight. Famed surfer and lifeguard Eddie Aikau, who was among the crew, was lost at sea going for help. But Hikianalia, besides heaving up and down and a little bit side to side, feels so stable I might as well be standing on a dock.
In ancient times—or, for that matter, contemporary parts of Micronesia—voyaging was a way of life. On small Pacific islands, most males grew up with the sea, whether fishing near shore or traveling between islands or making the long journeys to other island groups. One "learns the ropes" from very early. School-age boys make model canoes, sometimes even racing them in the shallow areas. They would float on their backs in the ocean to learn to feel and differentiate the different swells. They would also have to learn the many skills for carving, weaving, making rope, lashing and so forth that apply to land-based arts as well as canoe building and maintenance.
Few of us today, including most Native Hawaiians, have this traditional upbringing to prepare us for voyaging. When the late, great Micronesian navigator Pius "Mau" Piailug joined Hōkūleʻa in 1975, the crew saw in him a living ancestor, for their own culture had largely lost the skills and knowledge he possessed. I heard the story that Hawaiians in their 20s said: "We want you to teach us how to navigate." Mau shook his head, and said: "You? You are too old. Give me your children, I will teach them."
After 40 years of voyaging, Hōkūleʻa has had many crews, and its current Worldwide Voyage has required more than 165 different crew members for different legs. At this writing, it is in Key West after a historic crossing of the Atlantic. It will spend roughly May 15 to June 1, 2016, in the Washington, D.C. area and then sail on up the East Coast before continuing its journey back to the Pacific.
How does one get chosen to crew this, the most famous progenitor of all modern voyaging canoes?
First, one must show a commitment, and one of the best ways people do this is by coming to work on the canoes when they are in dry-dock. The older voyagers watch the efforts the industry and the interactions of these volunteers, looking to see how people mesh together, because on a voyage, working together is everything. "If you watch the crew, you'll see that without words they make way for each other. Nobody says 'Coming through! Make way!' It's a tiny space, but nobody gets into each other's way. You learn to live that way. It's almost poetic; it's like a dance."
Indeed, I am seeing—and participating in—that dance right now, as we crew members quietly move past each other, help each other, diligently attending to what needs to be done and looking for ways to help whatever requires it.
But not everyone who works at dry-dock is voyager material. "You can have a tremendous number of people that want to go on the canoe," says Jay Dowsett, one of the canoe builders, "but in reality it's a much smaller group that can actually do it. How do you know you've made it through to be crew?"
"If the dock is getting smaller, you're ready to be on the canoe," replies Billy. "But if the boat is getting smaller, you're staying on the dock." In other words, you're not ready to spend time at sea in a limited space.
Beyond that, there's training. The Polynesian Voyaging Society and other voyaging groups in Hawai'i coordinate a series of training programs including safety training, working of ropes, protocols for arriving at new places, and some basic principles of navigation. A five-day program called 'Imi Na'auao ("seeking knowledge") is held periodically as a basic training program hosted by the organization ʻOhana Waʻa (family of the canoes). I attended one in 2013. And then there are training sails, like the one I am on now.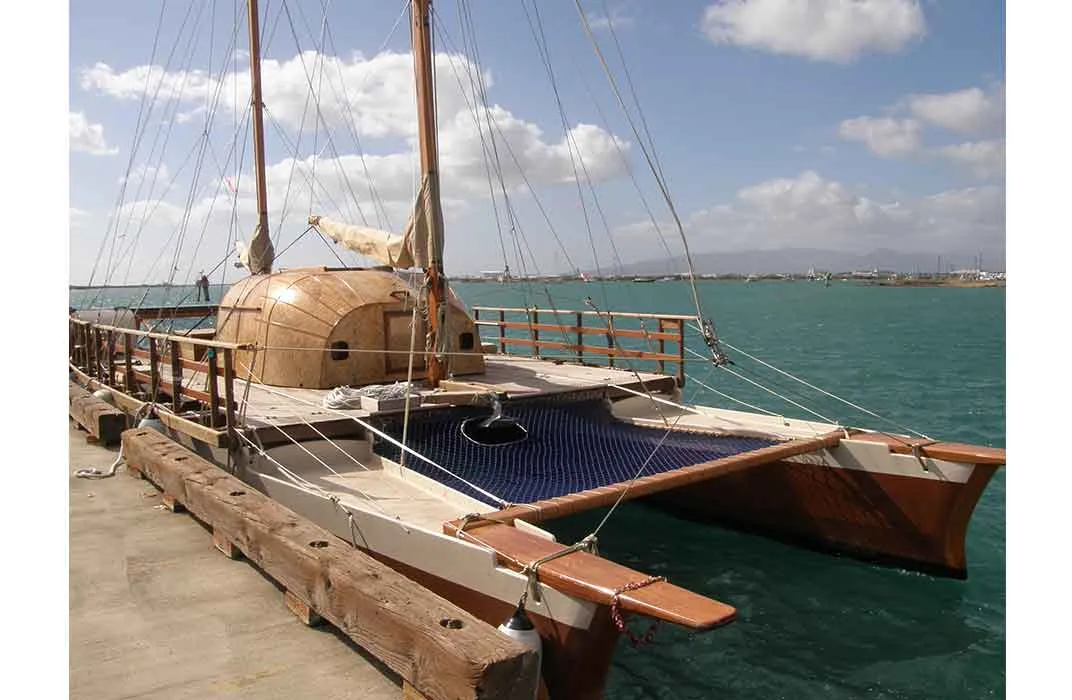 Sometime before midnight the captain, Bob Perkins, decides that we will have to tow again to get up to where we need to be to sail around the top of Hawai'i Island towards the town of Hilo. My turn is over, but the other shift is short two people due to seasickness and a minor injury, so I will be awakened at 3:30 a.m. for a half-hour stint back on deck. Towing means that we are banging against the waves, instead of riding them smoothly, so seasickness soon catches up to me and when I get up at 6 a.m. for my shift, I have to make a beeline for the rail for some retching before I can help at all.
Our progress during the wee hours of the morning had been poor; the winds are still strong against us and the sea is still churning at 15 feet. 
But the sun is out and it's a beautiful day. The giant blue waves sweep gently under the canoe and their beauty mesmerizes me. Everyone seems content. Sure, the stove has broken, so there is no coffee or hot breakfast. The toilet is broken, too. 
"More things have gone wrong on this trip than on our entire trip to Aotearoa [New Zealand]!" pipes Nahaku cheerfully. This was a trip of mishaps, and we're still a long ways from our destination, making very little progress. We are behind schedule. 
But everyone is happy. We are on the canoe.
"That's it," says the captain, after a short discussion with Pwo navigator Chadd 'Onohi Paishon, "We're heading for Kawaihae," a much closer port, on the wrong side of the island from our destination. There is a sense of relief as we turn the canoe downwind and are finally sailing again, using only the jib because the wind is so strong. Kawaihae comes into view, and soon we are mooring, cleaning off the boat, and loading onto the towboat to go ashore.
Friends and family, some of whom have driven over from Hilo, meet us at the dock. An elder comes out onto the narrow dock to meet us, and soon his chanting booms out from behind me. From the shore a response is chanted, and the goosebumps rise up on my skin and my eyes well up with tears. 
It feels like we've been at sea for a week or more. It was only three days, and yet I don't want it to be over, and don't want to leave this instant family, this wonderful crew that has embraced me, and this craft that has carried me securely on its back.
On shore there is food for us—tons of hot food, Hawaiian food. Crew instructor Pomai Bertelmann, who helped me find my way to this training sail, is there. "So," she says, "would you do it again?"
When do we leave?
The Hōkūleʻa arrives in the Washington, D.C. area on Sunday, May 15, to the Old Town Waterfront Park Pier, 1A on Prince Street, in Alexandria, Virginia, from noon to 5:00 p.m. The Smithsonian's National Museum of the American Indian celebrates the arrival with a number of programs and film screenings.