First Pictures of the Zoo's Lion Cubs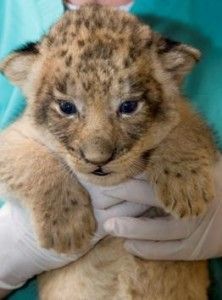 Since the birth of four lion cubs earlier this month at the National Zoo, we've all been pining for some adorable pictures to fawn over. Good news: those pictures are here. That's not all—the Zoo reports that all four lion cubs appear to be healthy females.
Zoo veterinarians gave the cubs their first physical today, and all appear to be developing well. Their eyes are starting to focus on things, and their hearts and lungs sound all clear. Soon, Zoo reports say, some of those lower teeth that will eventually make the cubs powerful predators will begin to break through their gums.
Zookeepers aren't 100 percent sure of the gender of the cubs, as it is difficult to determine their gender at the young age of two weeks, yet in about a month, the cubs will have another exam, where veterinarians will be able to determine the cubs' gender with certainty.
Zookeepers are "cautiously optimistic" about the cubs' chances for survival. The mortality rate for cubs in captivity under one year of age was 30 percent in 2009. This is considerably lower than the 67 percent mortality rate for cubs in the wild. One sign of promise is that Shera, the cubs' mother, does not appear to have rejected any of them and seems to be doing a stellar job as a first-time mom.
With the birth of these four cubs, the Zoo is well on the way to having a complete lion pride. Shera's 6-year-old sister, Nababiep, is also pregnant, and is due late this month. At the helm of the pride is the Zoo's male lion, Luke, proud father of these irresistible cubs and the ones on the way.
For more photos, visit the National Zoo's Flickr page. The Zoo will also be hosting a live web chat tomorrow (which we announced yesterday), for any questions about the new cubs.