A Feisty Capt. James T. Kirk Checks in on the Starship 'Enterprise'
When the model for the TV show Star Trek was removed for conservation at the National Air and Space Museum, the actor William Shatner weighed in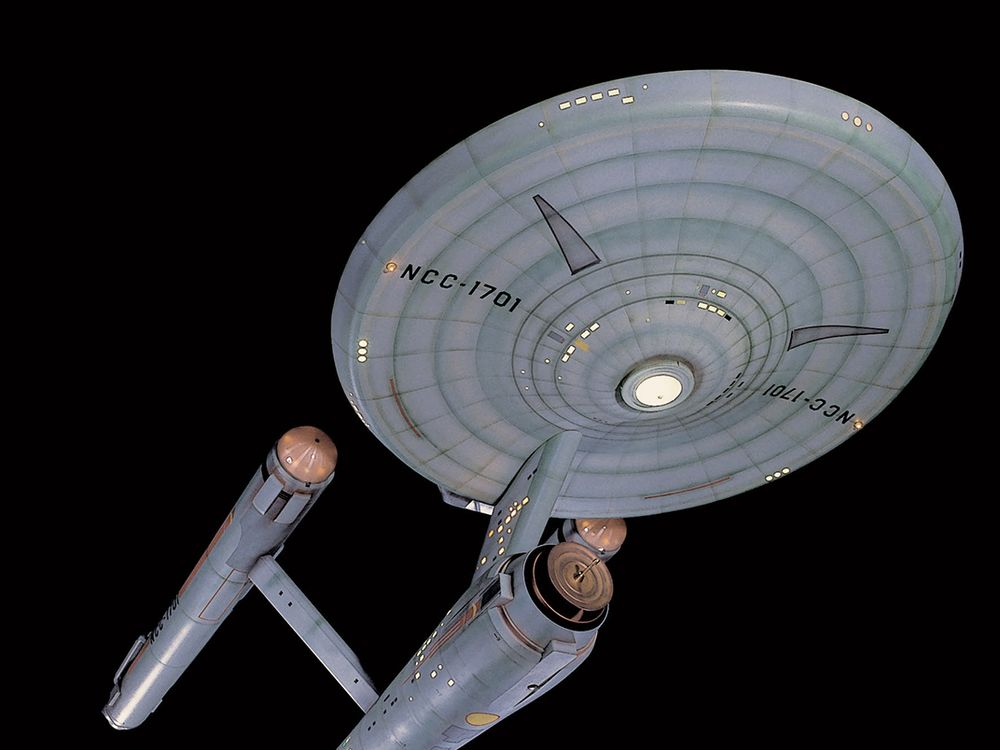 The message from Capt. James T. Kirk, captain of the starship USS Enterprise, last month was a stern one:
@NASAhistory Did you break my ship? pic.twitter.com/CujAZmwdNI

— William Shatner (@WilliamShatner) January 24, 2015
William Shatner, who played the Starfleet officer in the sci-fi series Star Trek, was picking up his old persona when responding to a tweet from NASA History about repairs to the original model of the Enterprise, which hung for years at the National Air and Space Museum, but was recently taken down.
Shatner tweeted in mock outrage:
@WilliamShatner @NASAhistory In spacedock for conservation. Would you like to come for an inspection, Captain?

— SmithsonianAirSpace (@airandspace) January 25, 2015
The Smithsonian's Air and Space Museum Twitter account replied with the ship's status and invited Shatner in to inspect the process.
To this tweet, he festooned it with emojis (winking and screaming).
@airandspace @NASAhistory Why isn't NASA doing it? And thanks for the invite but it's more fun to complain later if you screw it up!

— William Shatner (@WilliamShatner) January 25, 2015
Air and Space replied, possibly overstepping the facts of the fictional ship (and command). Shatner shot back with some stern advice.
@airandspace Yes do that and no superglue a la King Tut to fix her!

— William Shatner (@WilliamShatner) January 25, 2015
That snipe referred to a hasty epoxy job on the mask of King Tutankhamun in Egypt this year when his beard was knocked loose by a conservator.
Instead, the Enterprise, whose presence at the Smithsonian actually predates the Air and Space Museum and had lately been hanging in the basement gift shop, is getting a careful examination and restoration in advance of a more prominent showcase for it next year, according to the curator at the museum in the space history department division.
"We took it off display in September 2014 because we were getting it ready for a new location in the Boeing Milestones of Flight Hall, which will open in July of 2016," Margaret Weitekamp says. "We have been doing the evaluation that we've needed to do in order to figure out how to structurally stabilize the model, clean it and prepare it for its new display location."
The sleek, familiar-looking 11-foot model of the Enterprise that had been seen in the Star Trek series from 1966-69 had been donated to the Smithsonian in 1974, two years before the Air and Space Museum would open on the mall. It as originally in the Arts & Industries Building in an exhibit called "Life in the Universe," where it "became a fixture in that gallery as a way of illustrating some more contemporary ideas about what living and working in space could look like in a distant future," Weitekamp says.
Once the Air and Space museum opened it was used in conjunction with a number of exhibits before it landed in a display case in the renovated basement gift shop in 2000.
The wooden craft, with lights affixed inside, was due for a refurbishing, the curator says.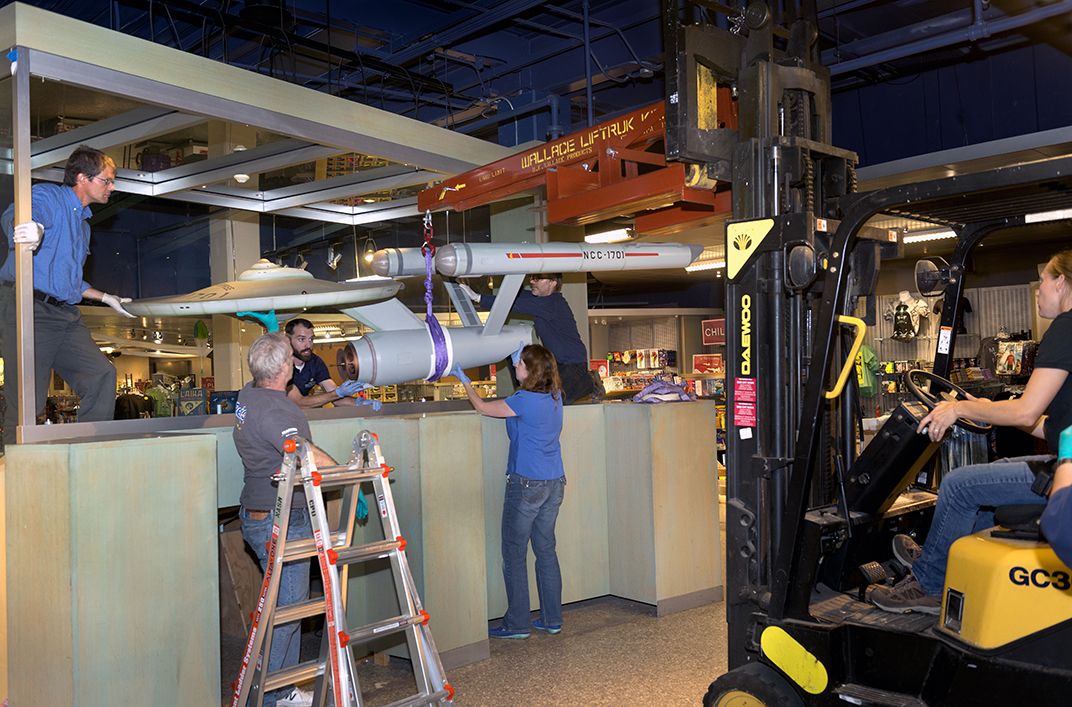 "The model hadn't really been worked on since 1991, so now, as an over 50 year old artifact, it needs to be examined," she says. "We had seen a little bit of sagging and a little bit of spreading of the nacelles, the fictional propulsion systems that are in the back of the vehicle."
With some stabilization and restoration of paint that had begun to crack, some work needed to be done. It involved borrowing X-ray machines from the National Zoo, a process "which allows us to get a very good look at the structure and state of the model right now, without having to pull it apart and to figure that out."
A chief conservator has also been photographing the paint under UV light to see when different parts of it were painted, she says. "So for instance, we know the top of the saucer section is original paint and we can access how far that original paint extends by looking how it fluoresces under the UV light. "
Logical, as Mr. Spock might have said on the show.
But some may wonder how a whimsical spacecraft from a fictional TV show will hang with the treasures of 20th Century flight from Lindbergh to Glenn when the new Boeing Milestones of Flight Hall is opened.
"Inspiration and imagination is a big part of what we do at the National Air and Space Museum," Weitekamp says. "And if we're going to have one object in the Boeing Flight Hall that tells inspiration and imagination story, this is a wonderful way to do that. "
Just recently, an engineer from the NASA jet propulsion laboratory told her during a one-day open house at the Steven F. Udvar-Hazy Center in Chantilly, Va., where the ship was on display, that part of his original interest in space came from the show, which has gone on to spin off five other series and 12 movies.
"That's a story I've heard often from people who end up working in the space industry," Weitekamp says. "We know for instance that Sally Ride, the first American woman in space was also a 'Star Trek' fan. "
Recruiting women and minorities into NASA was helped by having such a diverse crew on the Enterprise —something still quite unique in mid-1960s television.
Nichelle Nichols
, the actress who played the show's Lt. Uhura, an African-American woman of rank on the ship, was enlisted by NASA to help recruit women and minorities into the space shuttle program. Among those who responded was not only Ride, but current NASA administrator Charles Bolden.
Like Nichols, Shatner was another of the stars of the original series who have remained vitally interested in the space program (which named the first space shuttle the Enterprise in tribute in 1976).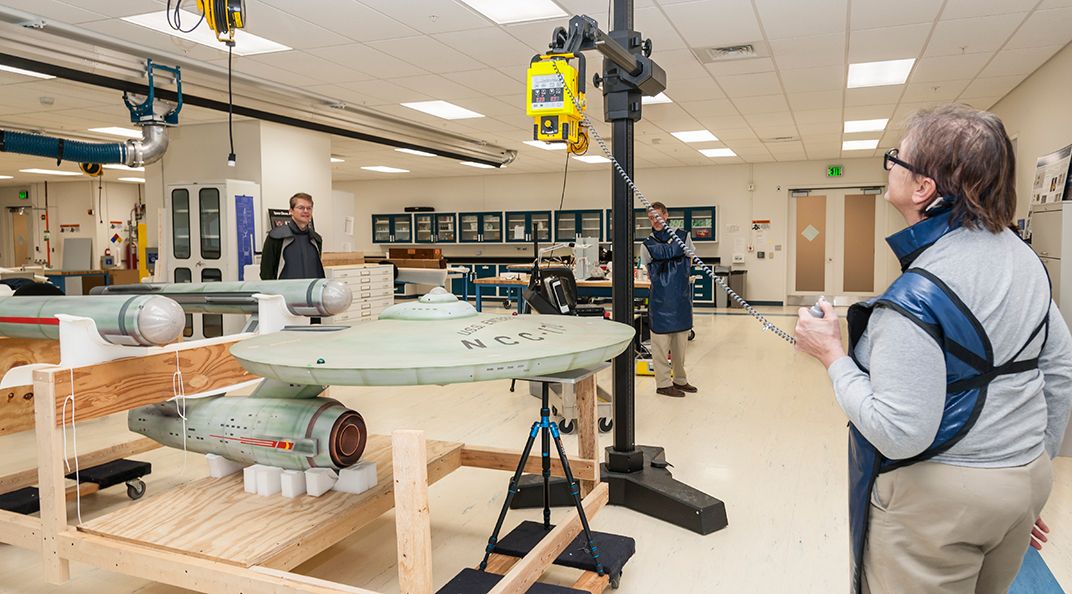 An inveterate tweeter, whose missives number more than 25,000 (and followers top 2 million) Shatner, now 83, had earlier tweeted with NASA last summer asking randomly how it was doing one August Saturday.
Someone up on "Trek" lingo answered him quickly about the International Space Station's progress: "Good day, Captain. #ISS is in standard orbit and Commander Swanson has the comm." referring to Steven R. Swanson, in charge of the crew on their four month mission. "Standard orbit" was a TV phrase during Captain Kirk's five-year mission "to explore strange new worlds, to seek out new life and new civilizations, to boldly go where no man has gone before."
It was not a phrase NASA used to describe the orbit of the ISS which has been occupied for more than 14 years since it was launched in Nov. 2000.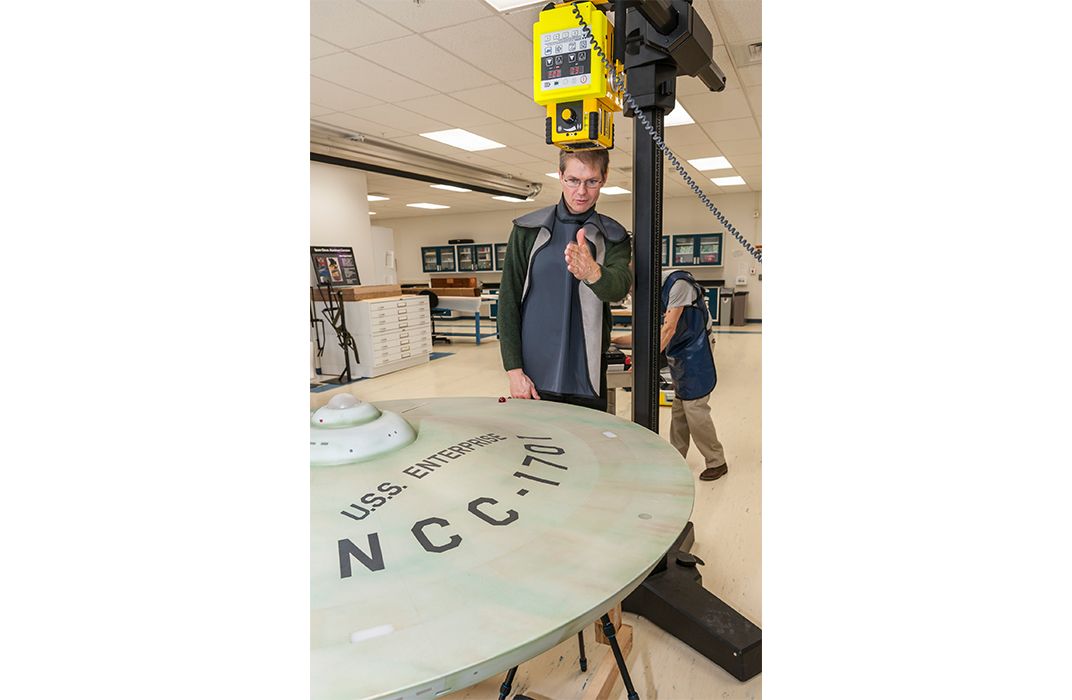 Of Shatner's recent flurry of tweets regarding the repairs, Weitekamp seems delighted.
 "I think it's wonderful that people are noticing what we're doing with the artifact," she says. "The 'Star Trek' fan community really still feels very much an ownership of this piece and we are working hard to be responsible to the history of the artifact and also to the passion of the fan community that loves this so much. "
And should Shatner want to come to see the unveiling next year? "We'd love to have him come," Weitkamp says. "That would be a lot of fun."