Famous Irish-Americans at National Portrait Gallery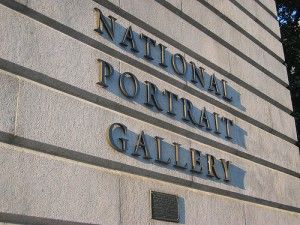 In honor of St. Patrick's Day, we plumbed the National Portrait Gallery's collection for famous Irish-Americans. Take a look at these fabulous portraits, and read about the sitters' lives.
1. F. Scott Fitzgerald
The famous author of The Great Gatsby, among other works, was born into an upper-middle class Irish family on September 24, 1896. Fitzgerald was accepted and attended Princeton University, but dropped out and joined the army. Soon after, he published his first novel This Side of Paradise and married a woman by the name of Zelda Sayre. He and Zelda lived the wild lifestyle of the aptly-named "Roaring 20s," but, unfortunately, experienced both the agony and ecstasy of it. Apparently, Fitzgerald was in the midst of an emotional breakdown in 1935 when he met artist David Silvette, who painted the only known portrait done from life of the writer. Fitzgerald described the portrait, which hangs in the museum's "Twentieth-Century Americans" exhibition, as being "swell." Five years later, at age 44, Fitzgerald died of alcohol-related causes.
2. Grace Kelly
Actress Grace Kelly was born on November 12, 1929, in Philadelphia, to parents John Brendan Kelly, son of Irish immigrants, and Margaret Katherine Kelly, a German American. Early in her acting career, she starred on Broadway and on television. But in the early 1950s, she advanced to films—11 in all, including The Country Girl (1954), for which she won an Academy Award for Best Actress. In 1956, she traded the glamour of Hollywood for that of royalty, marrying Prince Rainier III of Monaco. Princess Grace lived in Monaco, a mother of three and dual citizen of the United States and Monaco, until 1982, when she was killed in a car accident at age 52. A bronze portrait of Kelly, by artist Korstiaan Verkade, is part of the gallery's "Bravo!" exhibition, which features composers and performers.
3. Nolan Ryan
Irish-American and Hall of Famer Nolan Ryan played for the New York Mets, California Angels, Houston Astros and Texas Rangers over his 27-year career as a baseball pitcher. He was known for throwing pitches that clocked more than 100 miles per hour, earning him the nickname "The Ryan Express." At age 46, he retired with three major records—most strikeouts in both a career (5,714) and a season (383) and most no-hitters (7)—to his name. Houston-based artist Ruth Munson painted a portrait of Ryan, just having fired a pitch, which now hangs in the museum's "Champions" exhibit.
4. Muhammad Ali
That's right! In 2002, genealogists discovered that boxing great Muhammad Ali has Irish roots. This past fall, Ali traveled to Ennis, Ireland, hometown of his great-grandfather, Abe Grady. As the story goes, Grady emigrated to the United States in 1860, where he met and married a freed slave. One of Grady and his wife's grandchildren, Odessa Lee Grady Clay, is Ali's mother.
The National Portrait Gallery has in its "Champions" exhibit a portrait of the three-time heavyweight champion by artist Henry C. Casselli, Jr., called "Cat's Cradle." In it, young Ali's arms are outstretched, holding a string in one of the positions of the Cat's Cradle game. It has been said that the string is an allusion to the ropes around a boxing ring, as well as the delicate, "float like a butterfly" quality of Ali's boxing style. (I can't help but think how the snapping of the string would sting like a bee!)
5. John F. Kennedy
John Fitzgerald Kennedy's great-grandparents, on both his maternal and paternal sides, hailed from Ireland, and he celebrated his Irish ancestry. As the nation's first Catholic president, he used the Fitzgerald family bible, brought over from Ireland, when he took his oath of office. In June 1963, during his presidency, he made a historic trip to Ireland, at one point telling crowds, "When my great grandfather left here to become a cooper in East Boston, he carried nothing with him except two things: a strong religious faith and a strong desire for liberty. I am glad to say that all of his great-grandchildren have valued that inheritance."
President Kennedy sat for artist Elaine de Kooning in late 1962, and instead of painting one portrait, as she intended, de Kooning painted a series, one of which is in the gallery's "America's Presidents" exhibit. The portrait's abstract expressionist qualities make it stand out from the rest.
*Be on the look out for, "Americans Now," an exhibition slated to open this coming August, which promises a portrait of Irish-American Cormac McCarthy, author of The Road and No Country for Old Men.