Face-To-Face With The Big, Brash Voice of Ethel Merman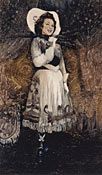 Ethel Merman (1908-1984) was one of the biggest, baddest belters in musical theatre, and had there been an American Idol back in her heyday, she surely would have blown little Ryan Seacrest's house down. This Thursday, in the first of a series of three Jazz Appreciation Month Face-to-Face Portrait Talks at the National Portrait Gallery, visitors will get a chance to know the performer behind the voice.
The singer and actress, who claimed she could "hold a note as long as the Chase National Bank," worked with some of the most notable composers and lyricists in Broadway and film during her career. While starring in successful Broadway shows like Anything Goes (1934), Annie Get Your Gun (1946) and Gypsy (1959), Merman performed memorable original versions of tunes that would go on to become songbook standards, including George and Ira Gershwin's "I Got Rhythm," Irving Berlin's "There's No Business Like Show Business" and Stephen Sondheim's "Everything's Coming Up Roses."
She didn't confine her brassiness to the stage either, eventually taking the logical leap onto the silver screen, initially appearing in musicals like Call Me Madam (1951) and There's No Business Like Show Business (above, 1954), and then later going on to appear in less-expected fare, such as It's a Mad, Mad Mad, Mad World and even Airplane!. Merman, ever the consummate pro, continued to perform into her seventies, making live appearances in concert and on television.
Though she never received formal training, Merman's vocal style set her apart from other singers. Early in her career, composer George Gershwin solicited a promise from her that she never take lessons.
On Thursday evening, curator Ellen Miles offers her insight on a Rosemarie Sloat portrait of the spirited Merman, decked out in her Annie Oakley garb. Meet in the National Portrait Gallery lobby, tomorrow, April 15th at 6:00.