"Exercise Your Mynd—BK Adams I Am Art" Brightens Up the Anacostia Museum
The boldly-colored paintings and sculptures of Washington D.C.'s own BK Adams enliven the museum's main gallery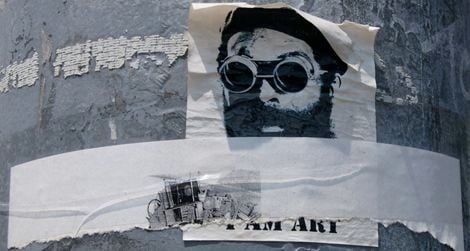 A Jackson Pollock-esque spatter seems to follow Washington, D.C.-based artist BK Adams wherever he goes, whether it be on his pants, his hands or his canvas. Yet the often be-goggled Adams maintains a sartorial splendor, resembling a friendlier, more dapper version of MMA fighter Kimbo Slice. Locally, BK's image has become semi-iconic, and you can find stickers bearing his likeness plastered around the area.
Adams' brightly-colored works fill the Anacostia Community Museum's main gallery in the bold "Exercise Your Mynd—BK Adams I Am Art" exhibition that opened yesterday and runs through November 27. He operates in a variety of mediums, from sculpture to painting, and frequently incorporates found objects into his work. Stylistically, he ranges from the figurative to the abstract. Certain ideas that are important to Adams, such as family and traveling the world, pop up repeatedly in his works, as do certain design motifs including bicycles and airplanes.
The soft-spoken yet enthusiastic Adams finds inspiration in life's little things and encourages creativity in himself and others through his "100% mynd use" mantra. "I'm into details," says Adams with a slight drawl. "I'm into making a small detail big and living it big. Celebrating a small thing like a small moment. Those are the things that turn my world."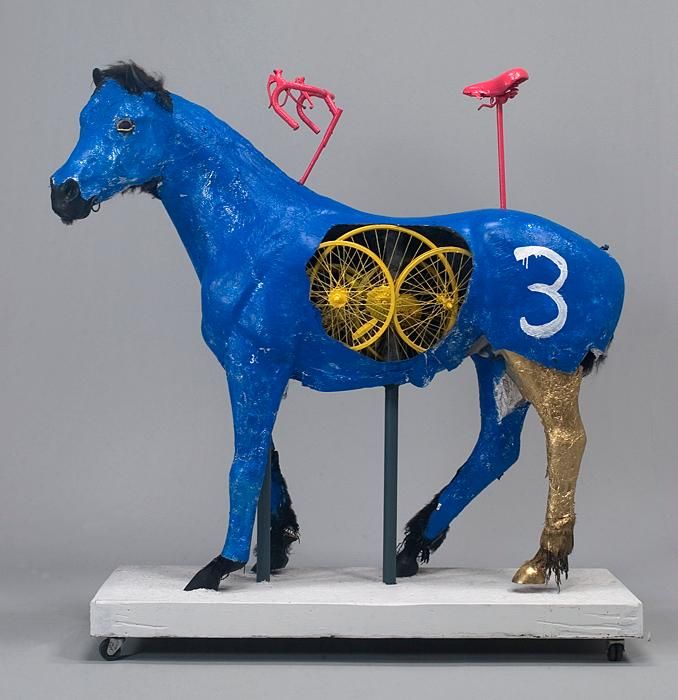 This exhibition is the first of three series that spotlight the creative forces of Washington, D.C. locals living east of the Anacostia River, home of the museum. "When we first found out about his work we were just completely blown away," said Anacostia Community Museum curator Portia James. "Once we found out we had a person doing this kind of work living right in the community we knew that we had to try to present his work to the public."
But museum galleries aren't the only places to view BK Adams creations. He's been unexpectedly placing pieces in public spaces for some time. Adams installed his first work in a public space in 2009 when he and collaborator Steven M. Cummings built a towering chair sculpture in an abandoned lot full of junk on the corner of 3rd and H Streets in Northeast, D.C. The reaction of the public to his work is important to Adams. "It's like if all of a sudden you see a roller coaster," he says, "and it's like, 'Where that roller coaster come from?!'"
Though BK Adams hails from the nation's capital, he's a worldly individual, a man on the move, and he left me with the following thoughts: "I'm a traveler, man. I was born and raised in Washington, DC. I left one way a thousand times or more. So D.C. has a hold of me. But I'm ready to go."
"Exercise Your Mynd—BK Adams I Am Art" will be at the Anacostia Community Museum from August 22-November 27, 2011. There is free weekend round trip shuttle service from the National Mall to the museum through September 5. You can find the schedule here.