Events: Victory Gardens, Aviation Films, Performance Readings and More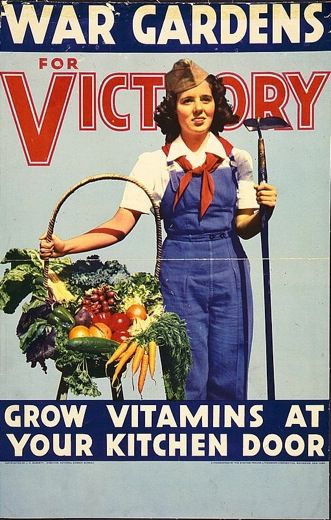 Monday, September 13: Picture This! A World in a Work of Art, 2-Session Evening Course
Everyone learns how to read words just fine in school, but no one really teaches you how to read images. Get a crash course in how to read and gain information from artworks in this two-session event brought to you by the Resident Associate Program. Learn how to interpret the formal elements of a piece in addition to learning how to take cultural, political and social contexts into consideration when looking at a painting. And sipping a glass of wine all the while is sure to aid the learning process. The September 13 session will focus on William de Kooning's Woman, and the second session, which takes place on September 20 will focus on Chuck Close's portrait of Bill Clinton. Tickets are required. Rates are: $50 general admission; $40 Resident Associates Program members. Tickets may be purchased online or at the Resident Associate Program box office in the Ripley Center on the National Mall. Resident Associate Program, 6:45-8:30 PM.
Tuesday, September 14: Discovering Our Communities: Researching "Place" in the District of Columbia (Part 1)
Are you trying to piece together the history of your neighborhood? Going about independent research projects like this can be daunting, but today, historian Matthew Gilmore is offering a workshop that will teach you how to use public records, maps and deeds in your local archives to make your detective work less of a chore. Please note that this is the first installment in a two part lecture series. The second part will take place on September 28. Free. Anacostia Museum, 7:00 PM.
Wednesday, September 15: Ask an Expert: WWI Aviation Films
World War I saw the first use of airplanes as a means of waging war. The harrowing dogfights that took place high above the battlefield were later dramatized in popular films such as The Big Parade and Wings. In today's lunchtime lecture, join Dominick A. Pisano from the museum's Aeronautics Division who will talk about the aviation films about this period in aviation history. Free. Air and Space Museum, 12:00 PM
Thursday, September 16: Victory Gardens
Victory gardens were a common sight during World War II. For some they were a means of reducing pressure on public food supplies and boosting morale, but for Americans imprisoned in internment camps, they were the only means of getting fresh produce. Today Joe Brunetti, lead horticulturalist for the American History Museum's Victory and Heirloom Gardens, will discuss the history—and perpetual usefulness—of these gardens. After the talk, be sure to check out the companion exhibit, The Art of Gaman. Free. Renwick Gallery, 12:00 PM
Friday, September 17: Performance Reading: Some Sing, Some Cry: A Conversation and Performance Featuring Ntozake Shange and Ifa Bayesa
Authors Ntozake Shange (For Colored Girls Who Have Considered Suicide When the Rainbow is Enuf) and her sister Ifa Bayesa (The Ballad of Emmett Till) read from their new novel Some Sing, Some Cry. The book follows the Mayfield family from the Civil War through the Civil Rights movement—and the struggles they must endure. The evening will also include a performance by vocalists and a string ensemble of original compositions by Ifa Bayesa. Book signing follows. Free. Natural History Museum, 7:00 PM
For updates on all exhibitions and events, visit our companion site goSmithsonian.com