Events: Stargazing, Live Tarantula Feedings, Test Your Women's History Knowledge and More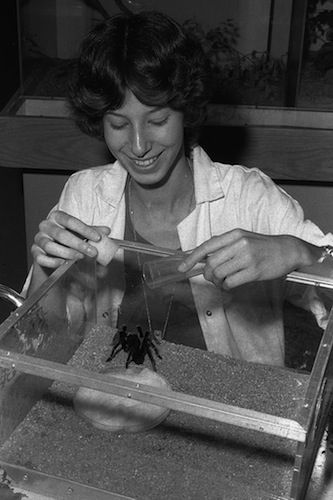 Monday, March 21: March Film Screening: My Name Is Kahentiiosta
Kahentiiosta, a young Kahnawake Mohawk woman, took part in a 78-day armed standoff in 1990 as a part of a land dispute between the Mohawks and the Canadian federal government. Arrested and imprisoned, she was detained longer than her peers because the prosecutor refused to let her stand trial using her native name. Learn about Kahentiiosta's story and why she was prepared to die to protect the land and trees sacred to the Mohawk people of Kanehsatake. Free. American Indian Museum, 3:30-4:00 PM. This event repeats daily, except Wednesdays, through the month of March.
Tuesday, March 22: Naturalist Center
Explore this resource center of some 36,000 natural history and anthropological specimens where visitors, students, collectors, and natural history lovers can handle and study these objects, identify their own treasures, do research, draw, and more. The center is open year-round, Tuesday through Saturday and is closed on most federal holidays. Call 703-779-9712 (voice), 800-729-7725 (voice), or 202-633-9287 (NMNH's TTY) for directions, information, and weather-related closings. Visitors must be 10 years of age or older to visit the main study gallery. A small Family Learning Center is available for younger guests. Groups of 6 or more admitted with advance reservations only; 2- to 4-week notice required. Please call to make reservations. The Naturalist Center is not located on the National Mall. Its address is 741 Miller Dr., Suite G2, Leesburg, Virginia. Free. Natural History Museum, 10:30-4:00 PM.
Wednesday, March 23: National Portrait Gallery Pop Quiz: Women's History Month Challenge
Head out to the Kogod Courtyard to play the National Portrait Gallery's new multimedia collection–inspired trivia game. In honor of Women's History Month, tonight's line of questions will be based on women in the National Portrait Gallery collection. Refreshments will be available for purchase. Free. National Portrait Gallery, 6:30 PM.
Thursday, March 24: Stargazing at the Public Observatory
The museum's Public Observatory is open for special nighttime stargazing. Don't miss this chance to see an array of celestial objects through a powerful professional telescope, as well as additional portable telescopes. Free. Air and Space Museum, 9:00-10:00 PM.
Friday, March 25: Live Tarantula Feedings
If you don't get the heebie-jeebies from creepy crawlies, come on out to the Insect Zoo where you can observe a tarantula feeding, touch live insects and ask questions about any of the creatures living at the Zoo. Free. National Zoo, 10:30 AM. This event repeats year-round Tuesday through Friday at 10:30 AM, 11:30 AM and 1:30 PM, and on Saturdays and Sundays at 11:30 AM, 12:30 PM and 1:30 PM.
For updates on all exhibitions and events, visit our companion site goSmithsonian.com