Events September 25-27: Waterways, Conserving Masterpieces and Video Blogging
This week, explore the role of the Anacostia River, art conservators at the museum and video blogging in contemporary life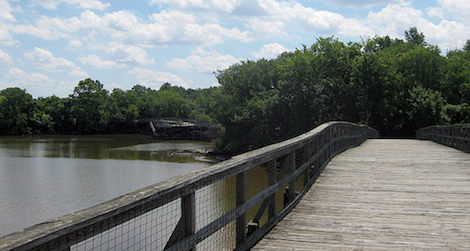 Tuesday, September 25 Access to the Anacostia Waterfront
As part of an ongoing research project that has enlisted cities worldwide to compare access to urban waterways, the Anacostia Community Museum will be hosting another forum to discuss D.C.'s dividing river. Focusing on issues of social and environmental justice and the way planning impacts practice and daily life, the project is part of a growing movement of smart design that seeks to reinvent what were often industrial ports of entry into community spaces oriented toward improved qualities of life. The museum is hoping to identify not only problems of access but workable solutions to encourage civic engagement along the Anacostia River. Free. 7 p.m. Anacostia Community Museum.
Wednesday, September 26 Behind-the-Scenes at the Lunder Conservation Center
For all the works of art currently on display at the American Art Museum and the National Portrait Gallery, there are scores more kept behind-the-scenes. The care and conservation of so many priceless pieces falls to a tireless staff of experts at the Lunder Conservation Center. If there were a procedural, forensics-heavy hit television show centered around art objects, it would be set at the Lunder Conservation Center. Somewhere between art and science, the craft of the staff's mission helps preserve and restore an invaluable art collection. See where the magic happens with the behind-the-scenes tour. Free, registration required at the Luce Foundation Center information desk, 3rd floor. Held most Wednesdays from 3:00 p.m. to 3:30 p.m. American Art Museum.
Thursday, September 27 Me @ The Zoo
Made famous by his passionate, self-recorded plea for the voracious public to please just leave Britney Spears be, internet blogger Chris Crocker is now also the star of the documentary Me @ The Zoo. A riff on the title of the first ever video posted to YouTube, the documentary follows not only the young Tennessee blogger but the rise of online sharing. From Crocker's viral and painfully sincere Leave Britney Alone to the ways in which pervasive social media shapes our own identities, the documentary by Chris Moukarbel and Valerie Veatch dissects the jugular of today's culture. The film premiered at Sundance in January and will be screened for D.C. audiences at the Hirshhorn. Free. 8 p.m. Hirshhorn Museum Ring Auditorium.
For a complete listing of Smithsonian events and exhibitions visit the goSmithsonian Visitors Guide. And download our new Visitors Guide & Tours App for both iPhone and Android. Additional reporting by Michelle Strange.