Events September 21-23: Sculpture dedications, Jim Henson and Sufism at the Smithsonian
This weekend, join in a ceremony to welcome two new monumental works, celebrate the Muppets creator and learn about the world of Islamic mysticism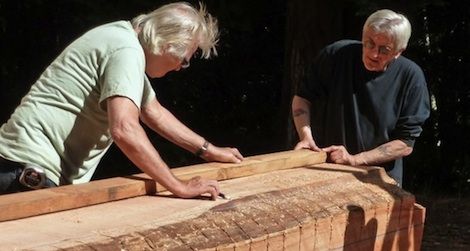 Friday, September 21 We Were Always Here dedication ceremony
Bear and Raven occupy two specific roles for Wiyot sculptor Rick Bartow's culture: one is slow and methodical, fiercely protective of her children, while the latter is playful and powerful. Both icons make dramatic appearances on We Were Always Here, Bartow's latest sculpture for the American Indian Museum, where they focus their attention on beautifully carved salmon. Timed to coincide with the autumn equinox, the installation and dedication ceremony will feature a blessing and a song led by renowned painter and poet Frank LaPena. Free. 5:30 p.m. American Indian Museum, outdoors near 4th Street and Jefferson Drive SW.
Saturday, September 22 Jim Henson Family Day
Celebrate the birthday of the man behind the frog with an all-day celebration at the National Portrait Gallery, featuring music performed by the student choir from the Jim Henson School of Arts, hands-on puppet-making activities, interactive puppet theater, gallery talks and themed-cookies. Pay homage to Jim Henson's portrait in the Twentieth-Century Americans exhibit before hunkering down to watch Kermit the Frog get chased cross-country by a frog-legs dealer in the classic, The Muppet Movie. Free. 11:30 a.m.-3 p.m. National Portrait Gallery, Kogod Courtyard.
Sunday, September 23 Sufism at the Smithsonian
It was the 13th century Sufi poet, Rumi, who wrote, "Let the beauty we love be what we do. There are hundreds of ways to kneel and kiss the ground." Part of a mystical Islamic tradition that embraces dance as a form of spiritual communion, Rumi's poetry resonates with readers across the world. As part of a two-day conference beginning Saturday, the American Indian Museum and the Smithsonian Center for Education and Museum Studies will be exploring the religious world of which Rumi played a role. The talks will focus on dance, contemporary arts, poetry and music. As true as it was when Rumi first wrote it, there are hundreds of ways to kneel and kiss the ground. Learn more about the history behind this artistically rich religious philosophy. Sunday's program beings at 12 p.m. with whirling dervishes and musicians. Free. 12 p.m. to 7:30 p.m. American Indian Museum.