Events September 18-20: Free Love, Edward Hopper and Historic Houses
This week, take in some spoken word, learn more about the artist behind iconic scenes and tour the official guest house of U.S. presidents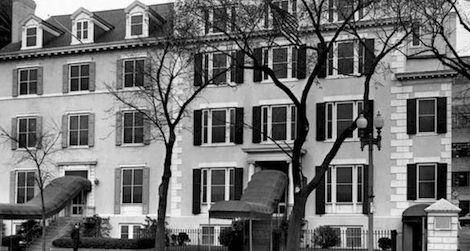 Tuesday, September 18 Poetry and performance
Local poet, Princess Bethea, will be performing work from her latest collection, free love, available online, at the Anacostia Community Museum. This is the first book from the young and promising DC spoken-word artist. Describing her sources of inspiration, Princess Bethea says, "I separated the poems into seasons because the seasons in nature are the perfect proof of the stages of Life: Growth and Death. Blooming and Falling." Mark the arrival of fall with an evening of poetry. The artist will also discuss and answer questions about her creative process. Free. 7 p.m. Anacostia Community Museum.
Wednesday, September 19 Clarice Smith Distinguished Lecturer
If Norman Rockwell's Americana had a haunting shadow-life, it would live in the world of Edward Hopper. The early 20th century-American artist behind scenes like Nighthawks and Automat, continues to receive critical attention including a 2011 exhibit at Bowdoin College. Edward Hopper's Maine is organized by scholar Kevin Salatino, who will be discussing the organization of the show and insights on the artist. Currently the director of the Art Collections at the Huntington Library in San Marino, California, Salatino will present his lecture, Edward Hopper and the Burden of (Un)Certainty , followed by a reception. Free, tickets will be distributed starting at 6:30 p.m. Lecture at 7 p.m. American Art Museum, McEvoy Auditorium.
Thursday, September 20 History of Blair House
This elegant retreat for dignitaries and diplomats was built in 1824 for the first surgeon general of the U.S. Army. The house's prestige has only grown over the years, serving once as a temporary White House for then-President Truman, and often accommodates new heads of state on the eve of their inauguration. Beautiful and brainy, this house tour offers historical architecture and furnishings as well as a behind-the-scenes tales of many important political engagements. The Blair House curator, Candace Shireman, leads the tour of the home on Lafayette Square. $40 general admission, $30 member, $27 senior member. 6:45 p.m. to 8:45 p.m. Smithsonian Associates.
For a complete listing of Smithsonian events and exhibitions visit the goSmithsonian Visitors Guide. And download our new Visitors Guide & Tours App for both iPhone and Android. Additional reporting by Michelle Strange.