Events September 11-13: Alaska Artists, Twitter Talk and the Scream
This week: Native artisans, Barbara Kruger and Edvard Munch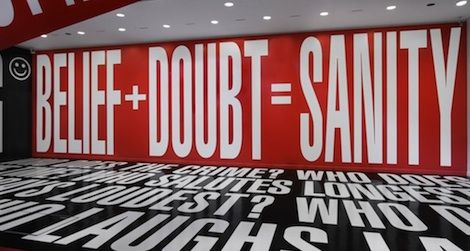 Tuesday September 11, When the Season is Good: Artists of Arctic Alaska
This 2005 film features four contemporary Alaska Native artisans, a sculptor, a painter, a skin sewer and an ivory carver, who tell their personal stories of inspiration and cultural heritage. In a land where survival often depends on hunting and gathering, artistic production has a complicated relationship with culture and economics, which the film explores. Learn about both the history and future of artists practicing at the edge of the Earth. Free. 3:30 p.m. to 4:45 p.m. American Indian Museum, Rasmuson Theater.
Wednesday September 12, Online Discussion with Barbara Kruger
The artist behind such slogans as "I shop therefore I am" and "Belief+Doubt=Sanity" will be available for questions on Twitter. Kruger's new installation at the Hirshhorn opened August 20, covering the lower lobby and bookstore with giant phrases and provocative words. Use hashtag "AskKruger" to join the discussion. Free. 2 p.m.
Thursday September 13, Edvard Munch, The Scream Heard Round the World
Join art historian and National Gallery of Art senior lecturer David Gariff to discuss Edvard Munch's most famous painting. The work recently sold at auction for a cool $120 million, begging the question: wait…why? Gariff will explore the artist's participation in the Expressionist movement, which challenged the conventions of subject matter, and also explore what makes this particular image so popular—even ranking a mention on The Simpsons. $40, general admission. Buy tickets online. 6:45 p.m. to 8:45 p.m. S. Dillon Ripley Center.
For a complete listing of Smithsonian events and exhibitions visit the goSmithsonian Visitors Guide. And download our new Visitors Guide & Tours App for both iPhone and Android. Additional reporting by Michelle Strange.