Events October 9-11: Short Films, Chef Demonstrations and a Shanghai Quartet
This week at the Smithsonian, daily screenings, the best of American cuisine and new arrangements of Chinese folk songs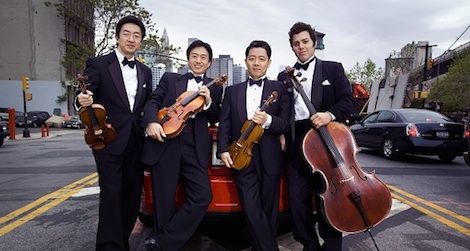 Tuesday, October 9 Shorts at American Indian Museum
If a picture is worth a thousand words, then these short films could fill volumes. Touching on themes of identity, language and community, the short films on tap for October's daily screenings at the American Indian Museum range from brief snippets to longer, scholarly investigations. Zoe Leigh Hopkins' 2010 Spelling Bee, for example, is a short three-minute daydream from a young girl imagining what a Native-language bee would be like. Meanwhile Helen Haig-Brown's 2009 Pelq'ilc/Coming Home is a compelling 33-minute documentary that looks at a community of the Secwepemc Nation in British Columbia that wants schools to take an active role in passing on Native language and culture. A product of Celia Haig-Brown's research as a professor at York University, the film looks at the Kamloops Indian Residential School. Fit the short films into your schedule; they will leave an impact. Free. Pelq'ilc/Coming Home and Mom 'n' Me at 12:30 p.m. Cry Rock and Spelling Bee at 3:30 p.m. American Indian Museum.
Wednesday, October 10 Chef's Table with William Bednar
Lunch with the execs Wednesday, or at least the executive chef at the American History Museum. A Culinary Institute of America grad, Chef William Bednar will be serving up a celebration of American food cultures, including Tex Mex, Chino Latino and Korean Tacos. Bednar will offer a demonstration for those interested in expanding their culinary repertoire. Located at the museum's Stars and Stripes Cafe, the two-hour demonstration and meal is sure to be a tasty draw. 12 p.m. to 2 p.m. American History Museum.
Thursday, October 11 Shanghai Quartet
Playing a mix of European classics and new arrangements of Chinese folk songs, this foursome, Weigang Li and Yi-Wen Jiang on violin, Honggang Li on viola and Nicholas Tzavaras on cello, kicks off its 19th season with a concert at the Freer Gallery on Thursday. Now a globetrotting sensation touring all over the world, including South America, Europe and China, the quartet first formed in 1983 at the Shanghai Conservatory in China. Thursday's performance will include Schubert's Quartetsatz; Bartók's Quartet no. 4; Beethoven's Quartet op. 132; and arrangements by Yi-Wen Jiang. Free, tickets required, available here. 7:30 p.m. Freer Gallery.