Events October 19-21: Star Music, Hollywood's Gettysburg and Día de los Muertos
Hear from an astrophysicist who danced her PhD thesis, watch a classic Civil War film and start celebrating Day of the Dead a little early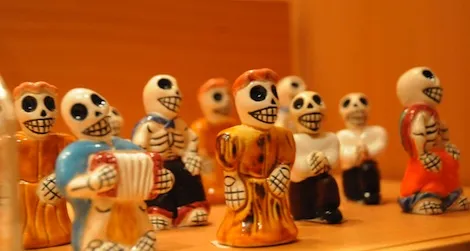 Friday, October 19: Music of the Stars
Though sound waves cannot travel through the vacuum that is outer space, that doesn't mean scientists aren't moved to music while studying the skies. Ask astrophysicist Katrien Kolenberg from the Smithsonian Astrophysical Observatory. Along with other researchers, Kolenberg participated in the 2008 Dance Your PhD event where participants presented their theses as interpretive dance. Not quite sure how a paper titled, "A spectroscopic study of the Blazhko effect in the pulsating star RR Lyrae" would look in motion?
Kolenberg will be at the African Art Museum in conjunction with the exhibit, "African Cosmos: Stellar Arts" to discuss constellations. Free. 4 p.m. African Art Museum.
Saturday, October 20: Gettysburg
Based on Killer Angels, the Pulitzer Prize-winning novel by Michael Shaara, Gettysburg is a lengthy look at one of the most storied battles in American history. At 254 minutes, the film seeks to explore both the human side of the battle and the tactical story behind the Union victory. Before the screening, Noah Trudeau, a Civil War historian and former NPR commentator on film and music, will lead a discussion about the film and the events it portrays. Get the inside scoop about what the Hollywood film gets right and then enjoy the epic production. Free. 1 p.m. to 6:25 p.m. American History Museum Warners Bros. Theater.
Sunday, October 21 Día de los Muertos
Celebrate (a little bit early) the popular Mexican holiday that honors deceased friends and family. Held on November 1st, Day of the Dead is a modern mix of Aztec traditions and the Catholic holiday All Souls' Day on November 2nd. Visitors to the American Indian Museum can learn more about the roots of this holiday and partake in festive activities, including painting a special mural, decorating plaster skulls and making paper marigolds as symbols of the day. And because it's a holiday all about family, be sure to bring the whole gang for a day of celebration. Free. 10:30 a.m. American Indian Museum.