Events Oct. 31-Nov. 3: Spooky Storytelling, Explore Chile, Lunder Conservation Center, and Sounds of the Dragon
This week, visit a Halloween story session, learn about Chile, get an up-close look at museum conservation, and enjoy a fusion of classical music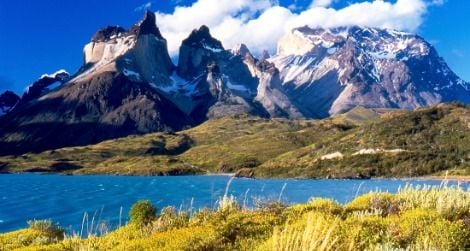 Monday, October 31 Spooky Storytelling
Come listen to some American Indian ghost stories on Halloween. Museum associate director Tim Johnson (Mohawk) will tell traditional stories from his home community, the Six Nations reserve, in Ontario. This family-friendly event will also be available online via webcast. Free. 3:30 to 4:30 p.m. American Indian Museum, imagiNations Activity Center, 3rd level.
Tuesday, November 1 Explore Chile
Learn about the remarkable range of habitats and landscapes all within a nation that's just about 100 miles wide. Chilean travel destinations include some of the world's driest deserts, regions of legendary wine production, a volcano-studded Lake District and the mysterious Easter Island. In conjunction with the "Against All Odds: Rescue at the Chilean Mine" exhibition, travel expert Kristina Schreck will lead a virtual tour of these and many other locations in Chile. Tickets to this Resident Associates program are $30 for members, $27 for senior members, and $40 for the general public. 6:45 p.m. Ripley Center.
Wednesday, November 2 Behind the Scenes at the Lunder Conservation Center
At the Lunder Conservation Center, staff work tirelessly to examine, treat and preserve the priceless works of the American Art Museum and the National Portrait Gallery. This behind-the-scenes tour is provides the perfect opportunity to see how museum conservators use science to care for the art in both collections. Free, register at Luce Foundation Center information desk, 3rd floor. Held most Wednesdays from 3 to 3:30 p.m. American Art Museum
Thursday, November 3 Sounds of the Dragon
This remarkable collaboration is a fusion of classical Western music and traditional Chinese instruments. The highly acclaimed Music from Copland House, based in New York's Hudson River Valley, will premiere new pieces by clarinetist Derek Bermel. Joining them will be an ensemble led by Wang Guo-wei, featuring performers on erhu (fiddle), guzheng (zither), yang-chin (dulcimer), and pipa (lute). Free tickets can be reserved online, by phone or in person. 7:30 p.m. Freer Gallery, Meyer Auditorium
For a complete listing of Smithsonian events and exhibitions visit the goSmithsonian Visitors Guide. Additional reporting by Michelle Strange.