Events Oct. 24-27: goSmithsonian Trek, Andy Warhol, Skin Color Evolution, and an Inventors Symposium
Take part in an interactive scavenger hunt, get an inside look at the Hirshhorn's newest exhibition, learn about human evolution and get tips on inventing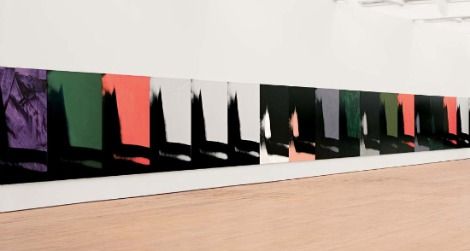 October 24 goSmithsonian Trek
Play the new goSmithsonian Trek game on your iPhone or Android to take part in an scavenger hunt in the largest museum complex in the world. Download the free SCVNGR App to answer questions about artifacts, solve mysteries about national treasures and complete GPS-based challenges in nine Smithsonian museums. This innovative game brings a whole new level of interaction to the Smithsonian experience. Free. Play via SCVNGR App on iPhone or Android.
October 25 Talking About Andy: In the Shadows
Shadows, a newly installed exhibition, is a monumental 102-panel work by Andy Warhol, rarely seen on view in its entirety. Come for this walk-through and gallery talk to get an insider's perspective on the work. Speakers include Dia Art Foundation curator Yasmil Raymond and Glenn O'Brien, an original member of The Factory—Warhol's cutting edge studio that the artist founded in 1964 in an abandoned hat factory—and former editor of Interview—the fashion magazine Warhol created in 1969. Free. 7 p.m. Hirshhorn Museum, 2nd floor.
October 26 Skin Color Evolution
As part of the Natural History Museum's "RACE: Are We So Different?" exhibition, distinguished anthropologist Nina Jablonski, author of Skin: A Natural History, will provide insight into the biological underpinnings of the evolution of human skin pigmentation. The discussion will address the complex interactions between the biological factors that influenced skin color early in our species' history, and how appearance has been used to create the concept of race. This Residents Associates program is $20 for the public, $15 for members, and $13 for senior members, with tickets available online. 6:45 to 8:15 p.m. Ripley Center.
October 27 Independent Inventors Symposium
The U.S. Trademark and Patent Office presents this unique event to complement the American Art Museum's "Great American Hall of Wonders" exhibition. As part of the day and a half long symposium, patent officials will help inventors understand the newly passed America Invents Act and how it impacts independent inventors. On the second day, a panel of experts will give participants tips on manufacturing, marketing and licensing to take their inventions to the next level. Free, with space limited and online registration encouraged. 1 to 7 p.m. on Oct. 27, continuing 8:30 a.m. to 5:5 p.m. on Oct. 28. American Art Museum, McEvoy Auditorium.
For a complete listing of Smithsonian events and exhibitions visit the goSmithsonian Online Visitors Guide. Additional reporting by Michelle Strange.