Events November 6-8: Mark Catesby's Wildlife, Wintering Insects and a U-2 Pilot
This week, celebrate the British illustrator's 300th anniversary, learn about how insects survive the season and hear from a U-2 pilot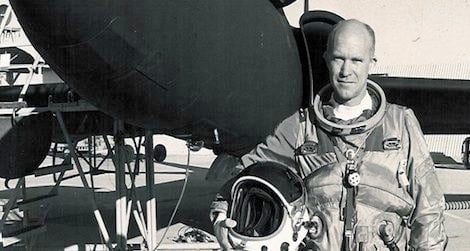 Tuesday, November 6: Mark Catesby's Third Centennial in America
Beginning November 4, the Catesby Commemorative Trust will be honoring the work of British artist and natural life chronicler Mark Catesby with a symposium. The entire event promises to be quite the spectacular symposium, even taking guests down to South Carolina's Kiawah Island for a look at some wildlife on Wednesday. But first, stop by the Natural History Museum to learn about the man who, decades before Audubon, recorded the natural world of North America for amazed European audiences. Scholars will discuss his seminal work, The Natural History, and even present the first edition print of the book for ticketed visitors. It is a must for history and nature enthusiasts alike. Tuesday lectures are free, but get your tickets to the conference here. Free. 10:30 a.m. to 5 p.m. Natural History Museum, Baird Auditorium.
Wednesday, November 7: Insects in Winter
Shorter days, longer nights and colder temperatures can only mean one thing: overwintering. And just like humans, insects must settle in to survive the season. How exactly do they do that? Learn more at Wednesday afternoon's lecture, "The Expert Is In: Insect Overwintering — Where did all the insects go?" While some insects, notably the Monarch butterfly, migrate to warmer climates for the season, many hunker down under buildings, in piles of fallen foliage or even in the nooks and crannies of your home. So even though the natural world seems barren during the winter, just beneath the surface is a buzzing community. Free. 1 p.m. to 2 p.m. Natural History Museum.
Thursday, November 8: Vice Adm. Donald D. Engen Flight Jacket Night: Maj. Gen. Kenneth Weir (ret.)
A special night for Air and Space Museum members, Thursday's Flight Jacket Night honors Major General Kenneth Weir, a retired pilot with "more than 19,500 hours in more than 200 types and models of aircraft," according to the museum. Working as a Marine aviator, Weir flew U-2 aircrafts for nearly three decades beginning in 1966. There will be a buffet dinner before the lecture. Weir will discuss his career, flight and more. Read an interview with the him here. Free for Air and Space Members. 8 p.m. Air and Space Museum.