Events November 27-29: Johnny Mercer, Contemporary Middle Eastern Art and Handi-hour
This week, review the musical genius of Capitol Records co-founder, examine identity in Middle Eastern art and start your stitching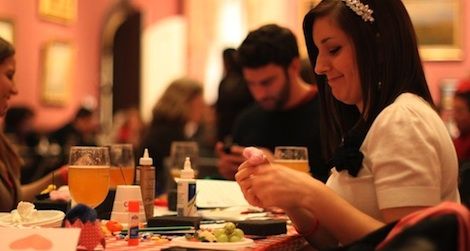 Tuesday, November 27: Johnny Mercer: He Wrote the Songs
Whether or not you know the name, you know the work. Johnny Mercer, lyricist, composer and co-founder of Capitol Records, left an indelible mark on the music industry. He wrote hundreds of songs, including the lyrics for "Moon River" for Breakfast at Tiffany's, and won four Academy Awards. Robert Wyatt will discuss the work and legacy of Mercer, who was also a singer in addition to all his other roles. Learn more about the man who penned some of the most popular songs of the 1930s, 40s and 50s for both stage and silver screen. Tickets $30 members, $42 non-members. 6:45 p.m. to 9:00 p.m. American Indian Museum.
Wednesday, November 28: Making History: Contemporary Art and the Middle East
Former Freer and Sackler curator of Islamic art, Glenn Lowry returns home from his current post as director of the Museum of Modern Art, to lead a discussion on contemporary art and the Middle East. Using the works of several artists, Lowry details how their work weaves real and imagined histories of the region together. Included in the discussion will be Walid Raad, Michael Blum, Emily Jacir and Shadi Ghadirian. Many of the artists address issues like civil war, exile, occupation and the construction of personal and national identities, topics that continue to be relevant in the modern Middle East. Free. 7:00 p.m. Freer Gallery.
Thursday, November 29: Craft Futures: Handi-hour
Remember how you took up knitting three weeks before the holidays last year and you still have that unfinished hat or scarf somewhere in the bottom of a tote bag? Well, this year is going to be different. Head to the regular and much-loved handi-hour at the Renwick to kick start your month of crafting and prepare to give the most awesome, etsy-est presents of your life. This session will focus on hoop-art ornaments and embroidery with live music from the Michelle Raymond Band and craft beer to keep things festive. Now you can finally embroider your own Kanye tweets! $20 at the door. 5:30 p.m. to 8:00 p.m. Renwick Gallery.
For more events, check here and don't forget to download our Visitors Guide and Tours app. We've packed it with specialty tours, must-see exhibitions, museum floor plans and custom postcards. Get it on Google Play and in the Apple Store for just 99 cents.