Events November 23-25: ZooLights, Artsy Holiday Cards and Metaphysical Baseball
This weekend, a seasonal favorite returns to the Zoo and authors sign books on 20th century holiday cards and a man haunted by visions of baseball's past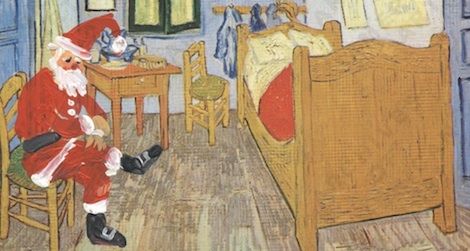 Friday, November 23: ZooLights
It's that time of year at last, when we get to see all of our favorite Zoo creatures as giant, light-up sculptures! That's right, folks, ZooLights is back at the National Zoo. So yeah, you can go and enjoy the wildlife and educational extras (and you should) but the real show starts at night when dazzling greens, yellows and reds bring the Zoo to life. The show attracts 100,000 visitors each year. And new this year, the Conservation Carousel done in the grand tradition of old-fashioned carousels with handcrafted representations of the Zoo's animal icons. Model trains, snowless tubing and plenty of photo opportunities, ZooLights entertains young and old. Admission is free. Parking $9 FONZ members,
$16 nonmembers. Begins Friday 5:00 p.m. to 9:00 p.m. National Zoo.
Saturday, November 24: Booksigning with Mary Savig, Handmade Holiday Cards
Author Mary Savig will be signing her book, Handmade Holiday Cards from 20th-Century Artists. With 190 reproductions of holiday cards straight from the Archives of American Art's collections, the book is an historical tour of commonplace commercial graphic design. From the Mondrian-inspired abstractions to Japanese prints, the collection provides an alternative take on holiday greetings with designs by famous artist, including Josef Albers, John Lennon and Yoko Ono and Robert Motherwell. Talk with the author about her research process and maybe get some ideas for your own holiday card. Free. 1:00 p.m. to 3:00 p.m. The Castle.
Sunday, November 25: Metaphysical Baseball
David Stinson will be at the American History Museum signing copies of his book, Deadball, A Metaphysical Baseball Novel, about a minor league player possessed by visions of baseball greats gone by. Driven to the point of obsession, he begins traveling the country to see for himself the vanished stadiums and places that made baseball history. A novel thriller, the book also incorporates plenty of baseball history that fans will appreciate and enjoy. Free. 12:00 p.m. to 3:00 p.m. American History Museum.