Events November 20-22: A Nation's River, Observations and Festive Foods
This week, Alexandra Cousteau discusses the Potomac, kids can gaze at the skies and the whole family can enjoy a fun-filled Thanksgiving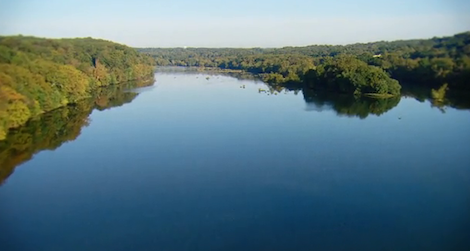 Tuesday, November 20: Our Nation's River: A System on the Edge
The Potomac River gets the Cousteau treatment, Alexandra Cousteau that is. The famed explorer and filmmaker's granddaughter turns her eye on the capital city's waterway, discussing the work being done here after a screening of the documentary Our Nation's River: A System on the Edge. Her family's interest in water management and sustainable practices has led the way for generations. Cousteau wrote on her website, "The Potomac is the lifeblood of this region and a constant reminder of the challenges we will face in the future," adding, "Its waters touch everyone in its watershed, from rural farmers and suburban dwellers, to office workers, tourists, Metro riders, and even the marble memorials which line the National Mall." Free. 7:00 p.m. Anacostia Community Museum.
Wednesday, November 21: Public Observatory Project
Finally, a safe way to stare at the sun! Bring your budding astronomers down to the Air and Space Museum for an afternoon of telescope fun. Guided by museum experts, children are welcome to step up to the 16-inch telescope for a glimpse at the surfaces of the sun and moon, complete with sun spots and lunar craters. Who knows, maybe your amateur astronomers will turn into astronauts. Or maybe they'll just ask for a telescope for the holidays this year. Free. 12:00 p.m. to 3:00 p.m. Weather permitting. Air and Space Museum, SE terrace near Independence Ave. & 4th St.; entrance only available from outside.
Thursday, November 22: Thanksgiving
While we know most of you will be participating in the preparation or consumption of a grand feast, some of you might need to get out of the house for a bit. If so, the Smithsonian will have its doors wide open with plenty of tours and highlights, including flight simulation rides at the Air and Space Museum at 10:00 a.m., or the enchanting butterfly pavilion walks starting at 10:15 a.m., or docent-led tour of the contemporary art at the Hirshhorn Museum. Visitors can even take a different approach to the day with a visit to the American Indian Museum's award-winning Mitsitam Cafe for a taste of North America's indigenous foods.