Events November 13-15: Art Labs, Diplomats and Nixon Policy Players
Get artsy, tour the state department's reception rooms and hear from officials central to Nixon's self-determination policies for American Indians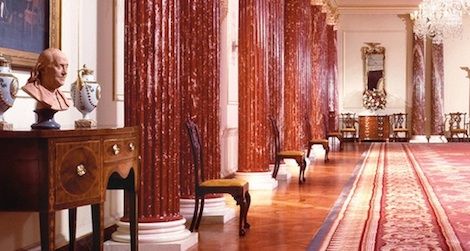 Tuesday, November 13: ARTLAB+Artist Studio
These daily mentor-led workshops help introduce teens to a variety of media, including sculpture, video and music with weekly formal critiques on Friday. Specifically for individuals between the ages of 13 and 19, the series helps partner passionate students with the teachers and tools they need to begin creating. The schedule is: Monday: invention, construction, and sculptural installation, Tuesday: video production and animation skills, Wednesday: graphic design and photography production, Thursday: music, broadcasting, and sound production and Friday: formal critique of work produced that week. Free but registration required. Daily through Dec. 21 5:00 p.m. to 7:00 p.m. Hirshhorn Sculpture Garden.
Wednesday, November 14: Inside the State Department's Diplomatic Reception Rooms
The Secretary of State, Vice President, and members of the Cabinet all rely on the diplomatic reception rooms to communicate whatever message they intend to send to visiting dignitaries. The carpets, the drapes, the coffee tables all have to be coordinated. As Mr. Lebowski knows, the importance a good rug cannot be underestimated. What else will tie the room together? With history, elegance and a heaping of home furnishings, Smithsonian Associates invites visitors to hear about the collections and take a virtual tour with director Marcee F. Craighill. You'll also be able to signup for a daytime tour offered on a variety of dates. Tickets, $35 members, $45 non-members. American Indian Museum, Rasmuson Theater.
Thursday, November 15: Nixon and the American Indian: The Movement to Self-Determination
Speaking of diplomacy, the Archivist of the United States David Ferriero will discuss President Nixon's decision to change course on Native American Policy. After delivering his opening remarks, a panel, cosponsored by the Richard Nixon Foundation and the National Archives, will explore the issues at stake and the consequences of the decision. By strengthening the government's fiduciary commitment to the tribes, the policy was meant to strengthen Native cultures. Officials key to the process will be at the American Indian Museum to discuss the " leadership, legislation, and litigation" of the policy. Free. 10:30 a.m. to 12:00 p.m. American Indian Museum.