Events Nov. 30-Dec. 2: Africa's Space Programs, the Middle East's Diva and Ang Lee's Wedding Banquet
Explore a continent's long history with the stars, hear the vocal stylings of Karima Skalli and watch another classic in a series of film screenings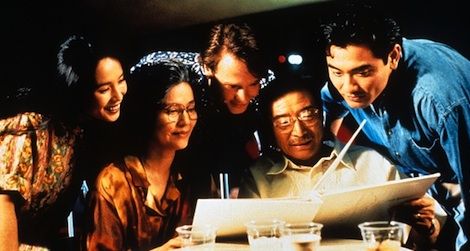 Friday, November 30: Africa and the World's Space Programs
In conjunction with the African Art Museum's out-of-this-world exhibit "African Cosmos: Stellar Arts," astrophysicist Jonathan McDowell discusses Africa's involvement in the world's space programs. Starting from the continent's early history charting and investigating the stars, McDowell tracks a long relationship into modern times. Though Ghana's Space Science and Technology Centre, for example, only has a handful of employees, the country is optimistic about its future in the industry. According to the BBC, countries like Nigeria and Ghana are hoping to use their space centers for "natural-resource management, weather forecasting, agriculture and national security." Free. 4 p.m. African Art Museum.
Saturday, December 1: Classical Arab and Andalusian Music: Vocalist Karima Skalli, with the Al-Bustan Takht Ensemble
In the midst of the Sackler's 25th anniversary celebrations, the gallery has found time to host the "next great diva of Arab music," Karima Skalli. Joined by Hanna Khoury (violin), Kinan Abou-afach (cello), Hicham Chami (quanun), Kinan Idnawi (oud) and Hafez El Ali Kotain (percussion); Skalli will perform traditional and contemporary favorites from the Arab Peninsula in honor of the gallery's groundbreaking exhibit, "Roads of Arabia: Archaeology and History of the Kingdom of Saudi Arabia." Free. 7:30 p.m. Freer Gallery.
Sunday, December 2: The Wedding Banquet
Another Ang Lee classic, The Wedding Banquet, tells the story of a gay Taiwanese man living in New York who finds himself in the middle of his own wedding celebrations after agreeing to marry a woman to secure a green card for her. Like many of his films, Lee succeeds in showing the tensions and strengths family inevitably brings. The comedy was a surprise hit for Lee, delighting audiences when it came out in 1993. Nearly ten years later, it still resonates. The series of screenings continues on Dec. 7 with Lee's even more famous, Eat, Drink, Man, Woman. Free. 3 p.m. Freer Gallery.