Events Nov. 28-Dec. 1: Postal Tours, Viva Verdi, Celebrating Roots and The Bright Beneath
Take a guided tour of the Postal Museum, celebrate an opera composer, attend a poetry performance and mingle at the Natural History Museum at night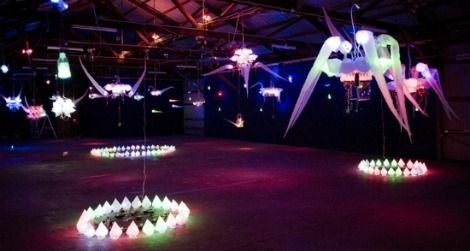 Monday, November 28 Postal Museum Tours
Only have a limited time to see the sights at the Postal Museum and don't know where to start? Take a docent-led tour of the museum's collections to make sure you see a little of everything, and gain insight into the collection's significance. DIY-ers can download this self-guide brochure. Tours are generally held at 11 a.m. and 1 p.m. daily; call 202-633-5534 to confirm the day's times. Free. National Postal Museum.
Tuesday, November 29 Viva Verdi
Come explore the remarkable life and career of Giuseppe Verdi, Italy's great 19th-century opera composer. Coleen Fay, arts editor at WAMU, will lead a seminar that traces the evolution of Verdi's works through multimedia recordings. Learn how Verdi overcame personal misfortune to compose some of opera's most renowned masterpieces. This Residents Associates Program is $30 for members, $27 for senior members, and $40 for the general public. 6:45 to 9 p.m. Ripley Center.
Wednesday, November 30 Celebrating Roots, Creating Community
The Smithsonian Latino Center invites everyone to a bilingual night of music and spoken word performances. This program will feature local poets Quique Avilés, Naomi Ayala and Consuelo Hernández, as well as music by singer/songwriter Patricio Zamorano and his band. The event is part of the Latino D.C. History Project series, which documents the historical presence of Latino culture in the nation's capital. Free. 6:30 p.m. American Indian Museum, Rasumson Theater.
Thursday, December 1 The Bright Beneath
Inspired by bioluminescent organisms from deep beneath the sea, installation artist Shih Chieh Huang has created an unearthly world of glowing creatures in the Natural History Museum. At this "Mingle at the Museum" event, enjoy a specialty cocktail and themed hors d'oeuvres as Huang and curator of fishes Lynne Parenti chat about the exhibition. Demonstrations of bioluminescent deep-sea creatures and real specimens will be on hand. This Residents Associates Program is $30 for members and $35 for the general public. 7:30 to 10 p.m. Natural History Museum, Sant Ocean Hall.
For a complete listing of Smithsonian events and exhibitions visit the goSmithsonian Visitors Guide. Additional reporting by Michelle Strange.