Events May 14-16: New Research, Old Films and Live Jazz
This week, hear the latest from the brains at the Smithsonian, dissect the great Nam June Paik's video legacy and relax with live music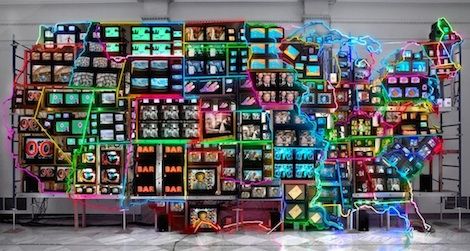 Tuesday, May 14: Grand Challenges Share Fair
Even Smithsonian magazine can have a hard time keeping up with all the great research that Smithsonian scholars are doing around the world. From the stars to the seas, experts are hard at working fulfilling the institutional mission to increase and diffuse knowledge. To complete the second part, the Grand Challenges Share Fair offers everyone the chance to hear about some of the cutting edge research via a live webcast. Catch Kristofer Helgen of the Natural History Museum for his talk, "The Roosevelt Resurvey: Leveraging the Contributions of the Smithsonian and President Teddy Roosevelt for Wildlife Conservation Insight in Africa." Or hear about the Deep Reef Observation Project from Carole Baldwin. Opening remarks from Secretary G. Wayne Clough begin at 1:00 p.m. Free. 1:00 p.m. to 3:30 p.m. Webcast.
Wednesday, May 15: The Films of Nam June Paik
When the father of video art gets behind a camera, you can be sure the results will be engaging. Known for his playful embrace of new technologies, Nam June Paik's "Electronic Superhighway" has long been a staple at the American Art Museum. Joined now by more than 60 additional works from the Korean-born artist for the exhibit "Nam June Paik: Global Visionary," the map made of televisions serves as a sort of introductory manifesto. Curator John G. Hanhardt, who worked with Paik to bring his archive to the museum, will be on hand to discuss the films and Paik's legacy. during Free. 6:30 p.m. American Art Museum.
Thursday, May 16: Take 5! Jazz Night
You've made it to Thursday, now relax with a little after-work concert courtesy the Night and Day Quintet. And should the music of George and Ira Gershwin, Richard Rodgers and Lorenz Hart, and Cole Porter inspire you, ArtJamz will be there as usual with all the art supplies you need to create your own masterpiece in the Kogod Courtyard. Free. 5:00 p.m. to 8:00 p.m. American Art Museum.
Also, check out our Visitors Guide App. Get the most out of your trip to Washington, D.C. and the National Mall with this selection of custom-built tours, based on your available time and passions. From the editors of Smithsonian magazine, the app is packed with handy navigational tools, maps, museum floor plans and museum information including 'Greatest Hits' for each Smithsonian museum.
For a complete listing of Smithsonian events and exhibitions visit the goSmithsonian Visitors Guide. Additional reporting by Michelle Strange.