Events March 5-7: Understanding Contemporary Art, Québec Microbrews and Lute Player Naseer Shamma
This week, learn how to interpret contemporary art, taste some Canadian microbrews and listen to one of the world's best flute players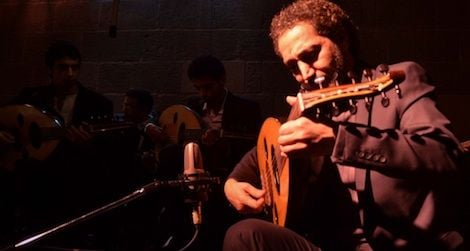 Tuesday, March 5: Is This Art?
Contemporary art isn't always the easiest to understand. What does an odd-shaped sculpture or a painting of a bunch of lines say about the world, and why should we care? This series of gallery talks, facilitated by museum staff members, introduces viewers to some of the American Art Museum's provocative contemporary works and explores different ways of interpreting them. Debate encouraged! Free. 6 p.m. to 7 p.m. American Art Museum.
Wednesday, March 6: Le Cuisine de Quebec: Exploring the Passion and Depth of Québec's Emerging Microbreweries
Québec, home to more than 100 microbreweries, has risen to international fame in the beer world in recent decades. The city's brews are known for their diverse styles and fusion of disparate European traditions. Sylvain Bouchard has helped the city win this reputation; as head sommelier at the city's most iconic brewery, Unibroue, for more than a decade, he has pioneered the use of ancient brewing European methods to produce new flavors. This evening, as part of the 2013 Francophonie Cultural Festival, Bouchard explains Québec's burgeoning microbrewery movement and introduces the range of its products. A tasting and pairing of cheeses and other Québec treats follows his presentation. $30 general admission, $25 members. 7 p.m. to 9 p.m. Natural History Museum.
Thursday, March 7: Naseer Shamma's Al-Oyoun Ensemble concert
Naseer Shamma, one of the Arab world's 'ud (lute)-playing superstars (see him in action here), returns to America for the first time in ten years this evening to perform new arrangements of classical Arab music. Shamma is a native of Iraq and a devoted teacher; he developed a method of playing the 'ud with one hand for children wounded in the Iraq War. He will be accompanied by the Al-Oyoun ensemble, a cairo-based orchestra that includes violins, flutes, bass and percussion. Free tickets required. 7:30 p.m., with a museum tour of the "Arts of the Islamic World" at 6:45 p.m. Freer Gallery.
Also, check out our Visitors Guide App. Get the most out of your trip to Washington, D.C. and the National Mall with this selection of custom-built tours, based on your available time and passions. From the editors of Smithsonian magazine, the app is packed with handy navigational tools, maps, museum floor plans and museum information including 'Greatest Hits' for each Smithsonian museum.
For a complete listing of Smithsonian events and exhibitions visit the goSmithsonian Visitors Guide. Additional reporting by Michelle Strange.