Events March 29-31: Parasitic Wasps, Joseph Henry and Victorian Portraits
This weekend, learn about wasps that live inside their prey, meet Smithsonian's first secretary from 1846 and see living rooms from 150 years ago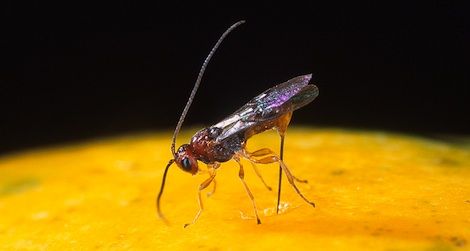 Friday, March 29: The Secret Life of Parasitic Wasps
Parasitic wasps are some of the creepiest bugs on the planet. To further their species, they hunt down other insects and inject eggs into them. When the eggs hatch, the baby parasitic wasp larvae feed on the host's insides and grow, until they burst out Alien-style—eeeewww!! Today, Dr. Matthew Buffington of the USDA Systematic Entomology Lab is in the house to tell you everything you wanted to know about these wicked wasps. (You might want to avoid eating anything too heavy for lunch before you go.) Free. 1 p.m. to 3 p.m. Natural History Museum
Saturday, March 30: Historic Theater: Meet Joseph Henry
Just how did the Smithsonian Institution begin, anyway? Joseph Henry, the first secretary, is cruising the American History Museum's halls today (actually, he's a historical reenactor) to talk about the Smithsonian during the Civil War and Henry's great influence on the Institution from during the years 1846 to 1878. Ask him about electromagnets! Free. 10:30 a.m., 12:00 p.m., 2:00 p.m. and 3:30 p.m. American History Museum.
Sunday, March 31: "Pictures in the Parlor"
Family portraits were a luxury reserved for the rich in until the 1840s, when the invention of photography allowed Victorian-era America to begin documenting—and flaunting—their loved ones. "Pictures in the Parlor," a newly-opened exhibition, features more than 50 portraits that show how seemingly simple decisions about where and how to display these new status symbols reflected a quiet revolution overtaking the middle-class home. Great for comparing and contrasting with your own living room! Free. Ends June 30, on display during regular museum hours. American Art Museum.
Also, check out our Visitors Guide App. Get the most out of your trip to Washington, D.C. and the National Mall with this selection of custom-built tours, based on your available time and passions. From the editors of Smithsonian magazine, the app is packed with handy navigational tools, maps, museum floor plans and museum information including 'Greatest Hits' for each Smithsonian museum.
For a complete listing of Smithsonian events and exhibitions visit the goSmithsonian Visitors Guide. Additional reporting by Michelle Strange.