Events March 19-21: Poetry Lessons, Nam June Paik Films and a Native Ballet
This week, unlock your inner poet, see films by the first video artist and take in the history of the Osage people performed in dance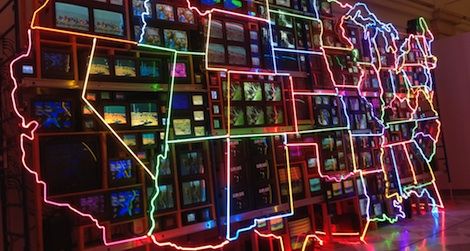 Tuesday, March 19: Verbal Gymnastics
Poet, playwright and Verbal Gymnastics founder John Johnson is in the house this morning to help you unlock your inner poet. In line with his mission to use the arts to tackle troubling social issues, Johnson will show participants how to use their personal observations of and experiences in their communities to create original verse. Free. 10:30 a.m. to 11:30 a.m. Anacostia Community Museum.
Wednesday, March 20: The Films of Nam June Paik
Nam June Paik (1932-2006) was an avant garde musician, installation artist and the world's first video artist. The American Art Museum opened a retrospective of his career earlier this year (see some of his work at his website), and this evening curators at the museum will introduce a series of short films and video works by the multi-media pioneer. Free. 6:30 p.m. American Art Museum.
Thursday, March 21: Wahzhazhe: An Osage Ballet
The history of the Osage people comes alive this afternoon through a unique medium–ballet. The performance features the traditional dance, music and design of the Oklahoma-area Native people, and shows the triumphs and tragedies of their complex history, from their relocation from their homeland on the Osage River to the discovery of oil on their reservation to their lives today. Free. Daily at 3 p.m. through March 23. American Indian Museum.
Also, check out our Visitors Guide App. Get the most out of your trip to Washington, D.C. and the National Mall with this selection of custom-built tours, based on your available time and passions. From the editors of Smithsonian magazine, the app is packed with handy navigational tools, maps, museum floor plans and museum information including 'Greatest Hits' for each Smithsonian museum.
For a complete listing of Smithsonian events and exhibitions visit the goSmithsonian Visitors Guide. Additional reporting by Michelle Strange.