Events March 15-17: Three Movies, the Persian New Year and Native Story Time
This week, see free films, celebrate the Persian New Year by jumping over fire and hear children's stories from different Native communities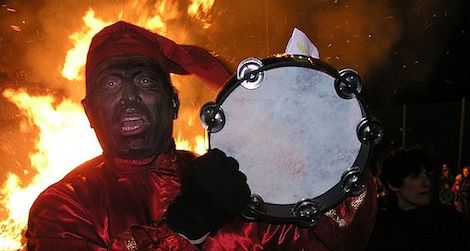 Friday, March 15: Movie Night!
Tired of $10 movie tickets? Smithsonian has three free films on tap tonight. Rebels with a Cause (2012, 72 min, USA, directed/produced by Nancy Kelly and Kenji Yamamoto; trailer here) tells the story of pioneer environmental activists who saved California's coastline from suburban development in the 1950s. Market Imaginary (2012, 54 min, USA, directed by Joanna Grabski; trailer here) investigates Dakar's Colobane Market, a major market in the West African city that is deeply embedded in the local economy and culture. Sympathy for Mr. Vengeance (2002, 129 min, Korea, directed by Park Chan-wook, Korean with English subtitles; trailer here), follows a hearing-impaired factory worker who turns to an illegal organ-trafficking ring to get a new kidney for his dying sister, then goes on a quest for vengeance when he is cheated. All films free. In respective order: 6:30 p.m., 7 p.m. and 7 p.m. at Anacostia Community Museum, African Art Museum and Freer Gallery.
Saturday, March 16: Persian New Year Celebration
When Americans celebrate their new year, they watch a ball drop. Persians jump over fire. Chahārshanbe-Sūri, the Festival of Fire, preludes Nowrūz, the Persian New Year, which welcomes the beginning of spring. Today, learn about Iran's exciting new year traditions while enjoying Persian songs, dances, games and food. You can even practice some (fake) fire jumping of your own! Fun for the whole family. Free. 11 a.m. to 5 p.m. Freer and Sackler Galleries.
Sunday, March 17: Hok-Noth-Da Story Time for Families
Hok-Noth-Da–Did you hear? People often remember stories their parents told them for their entire lives. Because they make such an impression, stories are ways for families and cultures to pass down important lessons for generations. Today, a Native museum staff member passes down lessons from different Native communities throughout the Western Hemisphere by reading children's stories by or about Native people. Open to children ages 4 to 8. Free. 11:15 a.m. to 12 p.m. American Indian Museum.
Also, check out our Visitors Guide App. Get the most out of your trip to Washington, D.C. and the National Mall with this selection of custom-built tours, based on your available time and passions. From the editors of Smithsonian magazine, the app is packed with handy navigational tools, maps, museum floor plans and museum information including 'Greatest Hits' for each Smithsonian museum.
For a complete listing of Smithsonian events and exhibitions visit the goSmithsonian Visitors Guide. Additional reporting by Michelle Strange.