Events March 12-14: Missions to Mars, the Civil War in Art and a Meditation on Imaginary Landscapes
Meet the scientist behind the Mars rover, learn the civil war's influence on contemporary art and watch films by European media collective Flatland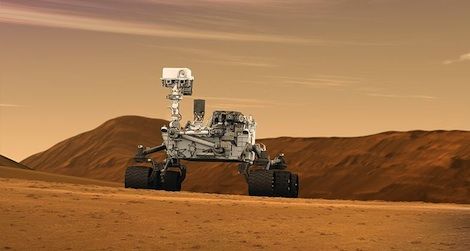 Tuesday, March 12: Curiosity's Mission of Exploration at Gale Crater, Mars
Scientists are looking for a lot more than life on Mars. Mars Science Laboratory's Curiosity rover landed on the Red Planet last August, and now is on a mission of investigating Gale Crater, a 91-mile-wide crater that is estimated to be more than 3 billion years old. The crater has preserved an extensive series of geologic layers, which the rover studies to get a look into the planet's environmental history. Mars Science Laboratory Chief Scientist John Grotzinger visits Smithsonian this evening to explain the rover's mission and to share some of its latest pictures. (For updates on the rover's progress, check out the videos here.) Free, tickets required. 8 p.m. to 9 p.m. (come at 7:30 p.m. to meet Grotzinger; stay after 9 for stargazing in the public observatory). Air and Space Museum.
Wednesday, March 13: Why the Civil War Still Matters to American Artists
Terry Adkins, William Dunlap, Sally Mann and Dario Robleto are four contemporary American artists who work across a variety of mediums towards a variety of different ends — explorations of pop culture, family and places around the world. One thread unites them, however: the Civil War. The four artists come together this afternoon to discuss how and why they have tackled aspects of this monumental event in American history in their recent bodies of work. Free. 4 p.m. to 5 p.m. American Art Museum.
Thursday, March 14: Flatform: A Meditation on Imaginary Landscapes
In a preview clip of Sunday, 6th April, 11:42 A.M., a six minute film by the German and Italian media arts collective Flatform, a bird's eye shot of a small Italian village shows dot-sized inhabitants going about their day as a narrator explains their movements. At first, the characters are difficult to follow, but slowly they become part of a larger pattern that reflects on the townspeople's relations to their environment. Flatform creates time-based films and installations that explore landscapes and biopolitics. Tonight, artists from the collective present an overview of their short films as part of DC's Environmental Film Festival. Free. 7 p.m. Hirshhorn Museum.
Also, check out our Visitors Guide App. Get the most out of your trip to Washington, D.C. and the National Mall with this selection of custom-built tours, based on your available time and passions. From the editors of Smithsonian magazine, the app is packed with handy navigational tools, maps, museum floor plans and museum information including 'Greatest Hits' for each Smithsonian museum.
For a complete listing of Smithsonian events and exhibitions visit the goSmithsonian Visitors Guide. Additional reporting by Michelle Strange.