Events March 1-3: A thriller film, a Women's Suffrage Festival and Influential African American Women
This week, see Nicole Kidman melt down, celebrate women's rights and learn about great African American women you've never heard of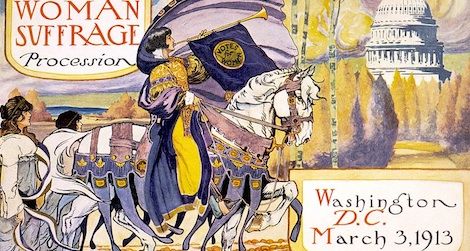 Friday, March 1: Stoker
Add a little fright to your Friday night with Stoker, a new mystery thriller starring Mia Wasikowska, Dermot Mulroney and Nicole Kidman. In the film, a girl named India (Wasikowska) loses her father in a car accident, after which her uncle (Mulroney) moves in with her emotionally unstable mother and her. His intentions are unclear. If the scary images, dark chase scenes and guns in the trailer are any indication, though, they certainly aren't good. The film is directed by Park Chan-wook and part of DC's Korean Film Festival. Free. 7 p.m. Freer Gallery.
Saturday, March 2: Vote! Women's History Month Family Festival
Happy Women's History Month! To celebrate, Smithsonian is holding a family festival in commemoration of the 100th anniversary of the historic suffrage parade. Eight thousand women marched down Washington, DC's Pennsylvania Avenue in 1913 led by a woman in a white horse and against the jeers of male onlookers to demand the right to vote. Today's festival includes arts, crafts, singing, oral history interviews and historical figure reenactments to capture the pro-suffrage spirit. Free. 12 p.m. to 4 p.m. American History Museum.
Sunday, March 3: She's Not In Your History Book: An Afternoon of Storytelling with Joy Jones
Queen Hatshepsut (1508–1458 BC) is considered one of Egypt's most successful pharaohs, and one of the earliest (if not the first) powerful and influential women on record. Of course, you may not heard of her, because America has a sad tradition of leaving many exceptional African and African American out of its history books. Washington, DC-based writer and teacher Joy Jones gives many of these women the recognition they deserve by telling their stories this afternoon. Performance poetry included! Free. 2 p.m. to 3:30 p.m. Anacostia Community Museum.
Also, check out our Visitors Guide App. Get the most out of your trip to Washington, D.C. and the National Mall with this selection of custom-built tours, based on your available time and passions. From the editors of Smithsonian magazine, the app is packed with handy navigational tools, maps, museum floor plans and museum information including 'Greatest Hits' for each Smithsonian museum.
For a complete listing of Smithsonian events and exhibitions visit the goSmithsonian Visitors Guide. Additional reporting by Michelle Strange.