Events: Lena Horne, Jazz History, Nanotechnology and More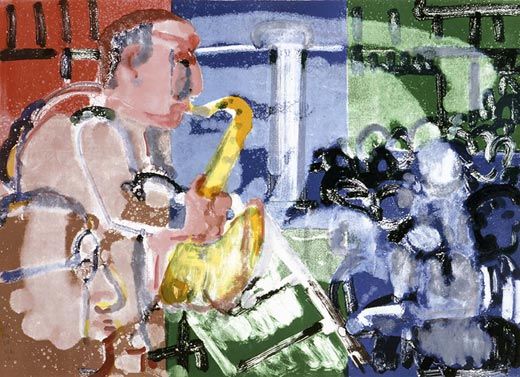 Monday, March 28: March Film Screening: My Name Is Kahentiiosta
Kahentiiosta, a young Kahnawake Mohawk woman, took part in a 78-day armed standoff in 1990 as a part of a land dispute between the Mohawks and the Canadian federal government. Arrested and imprisoned, she was detained longer than her peers because the prosecutor refused to let her stand trial using her native name. Learn about Kahentiiosta's story and why she was prepared to die to protect the land and trees sacred to the Mohawk people of Kanehsatake. Free. American Indian Museum, 3:30-4:00 PM. This event repeats daily, except Wednesdays, through the month of March.
Tuesday, March 29: GE Aviation Lecture: "You Can Do This!" From Skyhawks over North Vietnam to Command of NATO Forces in Bosnia
As a naval aviator, Vice Adm. Leighton "Snuffy" Smith flew carrier-based light attack jet aircraft during multiple deployments to the Mediterranean, North Atlantic, Western Pacific, and Indian oceans. This evening, he discusses some of his most critical challenges -- from his jet combat missions over Vietnam to the command of the NATO-led Implementation Force (IFOR) in Bosnia. Free, but tickets required. Reserve tickets online or call 202-633-2398. Air and Space Museum, 8:00 PM.​
Wednesday, March 30: International Sweethearts of Rhythm: Jazz and Civil Rights
In this event sponsored by the American History Museum, learn about the women of jazz in a discussion featuring the "International Sweethearts of Rhythm," members of the Jen Krupa-Leigh Pilzer Quintet, film director Judy Chaikin and moderator David Baker (maestro, Smithsonian Jazz Masterworks Orchestra). See clips from Chaikin's new film Girls in the Band and stay for swing dancing and live music by the Jen Krupa-Leigh Pilzer Quintet. Please note this event will be taking place at Artosphere in Arlington, VA and NOT at the American History Museum. Free. Artisphere, 7:00 PM.
Thursday, March 31: Remembering Lena Horne
Tonight, the National Museum of American History and the National Portrait Gallery pay tribute to the life, career and civil rights legacy of the legendary entertainer Lena Horne. Susan Lacy, creator and executive producer of the PBS series American Masters, joins Horne's daughter Gail Lumet Buckley in a discussion moderated by Smithsonian curator Dwight Blocker Bowers and George Washington University program producer Richard Golden. Afterwards, enjoy a special screening of the American Masters documentary Lena Horne: In Her Own Voice. Free. National Portrait Gallery, 6:30-9:00 PM
Friday, April 1: NanoDays 2011
Come on out to Spark!Lab and take part in NanoDays, a nationwide celebration of nanotechnology aimed at teaching the general public—particularly children—about nano science and invention and the role it plays in our lives. Spark!Lab staff and docents help visitors conduct experiments and demonstrations, including: constructing a giant model of a carbon nanotube entirely from balloons; measuring height in nanometers and creating a liquid crystal display that changes color. Free. American History Museum, 10:00 AM-4:00 PM
For updates on all exhibitions and events, visit our companion site goSmithsonian.com