Events June 8-10: World Oceans Day, 100 Years of Girl Scouts, Hat-Making Workshop
This weekend celebrate World Oceans Day, 100 Years of Girl Scouts and hat designer, Lula Mae Reeves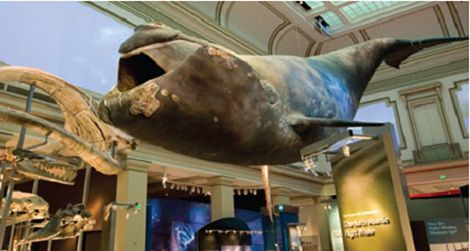 Friday, June 8 Celebrate World Oceans Day at the Smithsonian
When you walk into the Sant Ocean Hall in the Natural History Museum, look up. Phoenix, a full-scale model of a North Atlantic right whale hangs from the ceiling—a staple piece in the museum's largest exhibit. This Friday, celebrate World Oceans Day; meet at the whale to begin your afternoon of activities and presentations. Experts will discuss our planet's oceans and ocean careers in a series of events throughout the day. From 2:30-3:30 p.m., help cartoonist Jim Toomey, well known for his comic Sherman's Lagoon, create a mural of the ocean at the Ocean Explorer Theater. Later, gather the group to watch a series of short films on Marine Protected Areas and meet the producers in the Baird Auditorium. At 4 p.m., listen in on a panel discussion with renowned oceanographer Dr. Sylvia Earle and Youth Ocean Leaders. 1 to 5 p.m. Free. Natural History Museum.
Saturday, June 9 Girl Scouts 1912-2012
No one can resist digging into a box of Thin Mints or Samoas® come Girl Scout cookie season. They are a classic snack that represents a much larger organization: the Girl Scouts. This year, the iconic program for young girls celebrates its 100th year.
Come check out the exhibit, Girl Scouts 1912 – 2012, at the American History Museum this Saturday, and begin the morning with breakfast with a curator at the Stars & Stripes Café. A preview of the museum's History Highlights Display Case on the Girl Scouts, including a guided tour through the artifacts, will follow as a part of the "Girl Scouts Rock the Mall" 100th anniversary celebration in Washington, D.C. The exhibition focuses on the evolution of the Girl Scout organization, which began with 18 members and, over its 100-year history, has grown into the world's largest voluntary organization for girls. Don't forget to visit the portrait of Girl Scouts founder, Juliette Gordon at the National Portrait Gallery. Reservations for breakfast are required. Call (866) 868-7774 or or make reservations online. Girl Scouts 1912 – 2012, which runs through June 11 is free. American History Museum.
Sunday, June 10 Showstoppers: A Hat-Making Workshop
A "showstopper" is what milliner and accessories designer extraordinaire Lula Mae Reeves called her marvelous hats.  Reeves is the first African American woman to open her own business in downtown Philadelphia, and her collection of toppers are now at the National Museum of African American History and Culture. This Sunday, learn how to make a paper hat inspired by her designs in a workshop at the American History Museum. Participating Girl Scouts receive a patch upon completion of the activity. Free. 1 to 4 p.m. American History Museum.
For a complete listing of Smithsonian events and exhibitions visit the goSmithsonian Visitors Guide. Additional reporting by Michelle Strange.