Events June 29-July 1: Remembering Amelia Earhart, the War of 1812, and Hands-On Screen Printing
This weekend, commemorate Amelia Earhart, observe the bicentennial of the War of 1812 and make your own graphic tee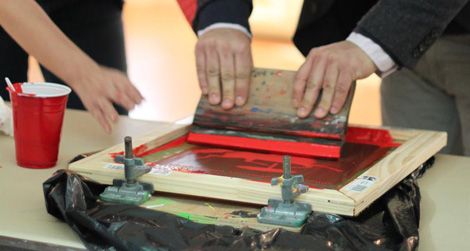 Friday, June 29 One Life: Amelia Earhart
Amelia Earhart achieved international celebrity status as the first woman to cross the Atlantic Ocean in an airplane in 1928. Timed to coincide with the 75th anniversary of her disappearance in 1937, this one-room exhibition tells the story of her remarkable life and career—not just in aviation but as a champion for women's rights. On view is a selection of portraits in all artistic media, along with rare vintage film and audio excerpts. Free. Through May 2013. National Portrait Gallery.
Saturday, June 30 1812: A Nation Emerges
This year marks the War of 1812′s bicentennial, but its history often takes the back burner. In fact, few people "Remember the Raisin," and you'd be surprised about some of the common misconceptions. This Saturday, learn the facts and visit the exhibit, "1812: A Nation Emerges" and meet the authors of three books on the War of 1812:
12 noon: Beth Taylor discusses A Slave in the White House, about Paul Jennings, who was born into slavery on the plantation of James and Dolley Madison, served the Madisons in the White House, was emancipated by Senator Daniel Webster and saw his sons fight with the Union army in the Civil War.
2 p.m.: John Stagg discusses The War of 1812: Conflict for a Continent, which explores the social, diplomatic, military and political dimensions of the War of 1812.
4 p.m.: Anthony Pitch discusses The Burning of Washington, which brings to life the summer of 1814, when the British forced President Madison to flee the city, torched public buildings and detained an amateur poet aboard a warship in Baltimore harbor.
Books are available for sale at the bookstore. Free. 12:00 to 5:00 p.m. The National Portrait Gallery.
Sunday, July 1 Meet the artist and hands-on screen printing demo
Join local artist Kristina Bilonick as she discusses the use of screen printing and t-shirt design in pop culture. Learn how to make a workable graphic design. Then, using Bilonick's design, silk-screen a t-shirt into a wearable work of art. Talk and demo are free; participation in workshop is $10 ($5 if providing own shirt). To register, e-mail [email protected]. 1:30 p.m. Third floor, Luce Foundation Center. American Art Museum.
For a complete listing of Smithsonian events and exhibitions visit the goSmithsonian Visitors Guide. Additional reporting by Michelle Strange.