Events June 28-30: Navy Band Sea Chanters, Hungarian Folk Dance and 'Cold War'
This weekend, listen to Navy sea chanteys, dance like a Hungarian and check the Hong Kong action-thriller "Cold War" on the big screen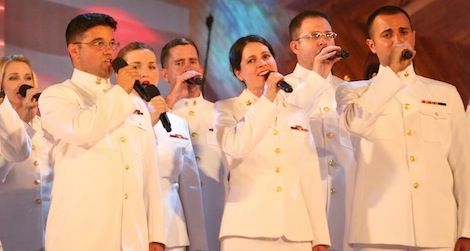 Friday, June 28: Navy Band Sea Chanters and Anchor Sisters
Cast out your anchor and float on the sound waves of the Navy Band Sea Chanters and the Anchor Sisters. The two bands will perform Friday as part of the Air and Space Museum's Summer Concert Series. The Sea Chanters is the official co-ed chorus of the Navy. In addition to performing traditional sea chanteys, the talented group also sings opera, Broadway and contemporary songs. Sticking to the theme of tradition, The Anchor Sisters, an all-women subgroup of the Sea Chanters, will pay tribute to The Andrews Sisters. Free. 12:30 p.m. to 1:30 p.m. Air and Space Museum.
Saturday, June 29: Dance House featuring Heveder and Szalonna and his band
Put on your dancing shoes and learn how Hungarians boogie. The Hungarian Dance Barn has been erected for the Folklife Festival, and on Saturday Transylvanian folk band Heveder will take the stage with Szalonna and his band to provide the music for this social dance party. Try your hand — and feet — at a variety of dances from different regions in Hungary. And don't be shy — all skill levels are welcome. Free. 8 p.m. to 9:30 p.m. Hungarian Dance Barn on the Mall.
Sunday, June 30: Cold War
Kidnapping, cops and power struggles. Sounds like a Hollywood blockbuster, right? Wrong. These are some of the major plot points in the Hong Kong hit movie Cold War, an action thriller starring Aaron Kwok and Tony Leung Ka Fai. The Freer Gallery will show this movie Sunday as part of the ongoing 18th Annual Made in Hong Kong Film Festival. The film begins with the kidnapping of five police officers, and an tense and exciting rescue operation ensues. The film will be shown in Cantonese with Chinese and English subtitles. Free. 2 p.m. Freer Gallery.
Also, check out our Visitors Guide App. Get the most out of your trip to Washington, D.C. and the National Mall with this selection of custom-built tours, based on your available time and passions. From the editors of Smithsonian magazine, the app is packed with handy navigational tools, maps, museum floor plans and museum information including 'Greatest Hits' for each Smithsonian museum.
For a complete listing of Smithsonian events and exhibitions visit the goSmithsonian Visitors Guide. Additional reporting by Michelle Strange.